Libya: 'deplorable' videos of soldiers shooting captive fighters must be fully investigated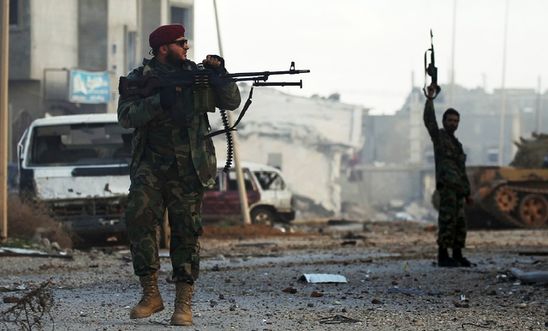 The Libyan National Army has been accused of numerous human rights violations © AFP/Getty Images
Credible-looking videos point to war crimes by Libyan National Army forces
Soldiers posed for photos with dead bodies - corpses desecrated and burnt
International Criminal Court should expand its investigations in country
Shocking video evidence has emerged showing fighters from the Libyan National Army carrying out execution-style killings of captured fighters from the Shura Council of Benghazi Revolutionaries in the Ganfouda area of Benghazi, said Amnesty International. 
The killings may amount to war crimes, adding to the long list of crimes under international law that have been committed with impunity by armed groups and militias in both western and eastern Libya.  
In the first of two videos circulating on social media - both of which appear genuine - a Libyan army member is seen shooting three captured fighters with what appears to be a Kalashnikov-type assault rifle as they kneel on the ground facing a wall with their hands tied behind their backs. In the second video, a group of Libyan army personnel taunt, humiliate and drag a captured fighter along the ground before shooting him dead.
Amnesty has also seen alarming photos shared by sources close to family members of individuals in Ganfouda showing Libyan army personnel posing alongside dead bodies and burning the corpses of victims, as well as desecrating the dead body of Jalal Maksoumi, a senior Shura Council commander. 
The dead bodies in the images include people believed to have been trapped in the "Block 12" area of Ganfouda who had been killed during the recent clashes. While Amnesty is not able to independently verify the photos, a source close to the family of the victim confirmed the identity of three of the dead. International humanitarian law prohibits mutilation of dead bodies and parties to a conflict must also endeavour to return the deceased upon the request of their families.  
The Libyan army has announced an investigation into the incidents, and a spokesperson told Amnesty that the individuals responsible for the killings had been apprehended and would be investigated. In a statement, the army described the unlawful killings as "isolated" incidents carried out by individuals, and ordered military units in Benghazi to ensure those responsible for violations are handed to the military police and properly brought to trial. 
However, Amnesty has pointed to other similar incidents which have gone unpunished. Last July, the bodies of 14 men were found dumped in the al-Laithi area of Benghazi after the city was recaptured by the Libyan army. The men had their arms bound before they were shot dead. Neither the Libyan army or law enforcement agencies have conducted effective investigations into these or other summary killings in the country. 
Heba Morayef, Amnesty International's North Africa Director, said:
"The deplorable conduct of members of the Libyan National Army in these videos, which show the fatal shooting of defenceless captives, violates international humanitarian law and amounts to a war crime.

"A credible, independent and impartial investigation into these incidents is vital to send a clear message to those who commit or order horrendous crimes that they are not above the law and will not go unpunished.  

"Given Libya's dire record on accountability it is even more crucial for the International Criminal Court, which has active jurisdiction in Libya, to expand its investigations to cover ongoing war crimes and crimes against humanity committed in the country."
Civilians killed as they fled 'Block 12'
Both of the summary killings took place in the Ganfouda area of Benghazi, formerly one of the last strongholds held by Shura Council forces. In recent weeks, the armed opposition group has lost further ground to the Libyan army, with its fighters pushed into a small enclave of buildings known as Block 12 in the south-western neighbourhood, where clashes between the two sides have intensified. Ganfouda has been under military blockade for months, with the Libyan army controlling roads in and out of the area. Food, water and electricity supplies have been cut off, creating a dire humanitarian situation for families still trapped.
Amnesty spoke to three separate sources close to the families of those trapped in Block 12. They said that when Libyan army forces appeared to be gaining ground in the area, some families tried to flee. The remaining fighters - some of whom were wounded - along with their family members, including elderly people, and children, were loaded into vans that drove towards the al-Sabbri area of Benghazi. A source closely associated with the victims told Amnesty that one of the vehicles - a van carrying at least four families - broke down near the Juliana Bridge approximately three miles from Block 12. At this point, they allegedly came under attack by Libyan army forces. An exchange of fire ensued, which led to Libyan army forces capturing all those inside the van. Another source told Amnesty that five members of one family - a mother, her two daughters and two sons - who had been travelling in the van were later found dead. Their wider family were able to confirm their deaths after photographs of their dead bodies surfaced online. Other families remain missing.
The circumstances of this incident remain unclear, and Amnesty is unable to independently verify the full details. A spokesperson for the Libyan army told Amnesty by phone that no civilians were killed during this incident. He said that five young civilian women had been captured and handed over to the Ministry of Interior "to be returned to their families". He also stated that the Libyan army has no civilians in their custody. However, reports from family members of those who fled contradict these claims and suggest a number of civilians were killed, including children.