Libya: homes and hospitals being hit by 'reckless' shelling of Benghazi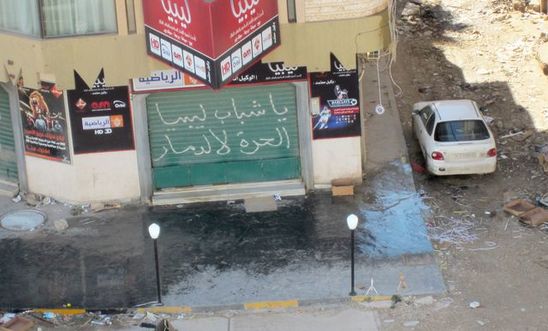 Graffiti in Benghazi in 2012: "Oh youth of free Libya, No to destruction" © Amnesty International
'There is no government in Benghazi' - Hussein Abdelmajid Abu Baker al-Barasi, whose house has been shelled on three separate occasions 
Libyan armed forces and armed groups, including militias, must immediately stop the reckless shelling of residential areas and medical facilities in Benghazi, Amnesty International said, following a renewed round of heavy fighting in the eastern city. 
In a month of fighting, Amnesty has documented a number of incidents where shelling has resulted in deaths and injuries of residents and medical personnel and caused extensive damage to homes, crops and medical facilities. Hundreds of people have been forced to flee their homes because of the fighting.   
Eyewitnesses have told Amnesty that forces aligned with the retired general Khalifa Haftar launched artillery and aerial strikes on Ansar al-Sharia bases reportedly located in Sidi Faraj and al-Hawari areas on the outskirts of Benghazi in the early hours of Sunday morning. These areas include civilian residences, the al-Hawari hospital, as well as agricultural land. Both sides are said to have used GRAD rockets and mortars.
Armed clashes in Benghazi began on 16 May when General Khalifa Haftar launched a military offensive codenamed "Operation Dignity" against Islamist militias and armed groups, whom he accuses of "terrorism". 
Amnesty International Middle East and North Africa Deputy Director Hassiba Hadj Sahraoui said:
"Libyans are increasingly paying the price of reckless attacks with heavy weapons in residential areas that kill and injure people who are not posing an immediate threat, including those trying to treat the injured.

 

"The targeting of medical institutions and staff is prohibited under international law. Shelling that results in such violations and the obstruction of medical treatment must stop immediately." 

 
Residents killed and injured in the shelling of residential areas 
Eyewitnesses have reported damage to homes, farmhouses, cars, crops, commercial warehouses and the killing of livestock as a result of the fighting in al-Hawari, Sidi Faraj and al-Qawarshah areas. Photographs of the damage reviewed by Amnesty are consistent with these allegations. In many cases, it is unclear who is responsible for the destruction, and eyewitnesses have blamed all parties for the shelling.
At about 11.45pm on 5 June, Fathi al-Hamdi al-'Aqili and his young son were killed in the Benina area after their entire house collapsed on top of them after it was allegedly hit by a GRAD rocket. Fathi's wife and daughter, who survived the attack, were taken to Al-Abyar hospital for medical treatment. According to residents of the area, the house was hit during an attack launched by armed groups on Benina airbase, which is used for the take-off of combat helicopters that target Ansar al-Sharia bases and their allies. 
Residents in Benina told Amnesty that the shelling with GRAD rockets by armed groups had continued since then, causing many families to flee the area. In the early hours of 12 June, for example, three GRAD rockets hit a neighbourhood in Benina causing damage to houses and allegedly injuring a child. One resident told Amnesty: "It was shortly after the call to Fajr [dawn] prayer. I was watching television when the house of my neighbour was hit by a GRAD rocket. It went through the ceiling of one of the rooms and exploded inside causing a fire. The explosion was so strong that it shattered the windows in my house, and broke the doors. Two other GRAD rockets hit the area. I saw people coming out onto the streets, woken up by the explosions. Everyone was very scared. I heard that the neighbours' son was injured in the head by the shattered glass. Most women and children have now left, but men stayed to protect their homes."     
A resident of al-Hawari, Hussein Abdelmajid Abu Baker al-Barasi, whose house is located in the vicinity of a farmhouse allegedly taken over by Ansar al-Sharia, told Amnesty that his house was shelled on three separate occasions across a week of fighting with mortars and GRAD missiles. Photographic evidence of the damage is consistent with the allegations, but additionally shows remains of an RPG suggesting that the house may have been shelled by two different groups. He told Amnesty: "At about 10.30pm on 31 May, we heard very loud explosions, after which a rocket hit the bathroom … We were very scared. My whole family was home, including women and children aged only a year and four months. We waited until the shelling ended before we left the house. We now live with relatives." 
Hussein told Amnesty that, five days later, the house was shelled again. On 6 June, a mortar hit the kitchen. "I filed a complaint with the police, but the prosecution has suspended its work. There is no government in Benghazi. I go back to check on my house and my warehouse every day. I am a stationery merchant and I have nowhere else to take my goods."    
June 2: residents and medical personnel caught in the crossfire 
According to medical sources interviewed by Amnesty, at least 23 people died and 97 were injured in armed clashes on 2 June following an Ansar al-Sharia attack on the military compound of an army battalion in Qar Younis at about 2am. By 4.30am the armed confrontations reportedly spread into the residential area of Tabalino following the intervention of Special Forces and those loyal to General Haftar. Eyewitnesses reported shelling in residential areas with artillery, mortars, anti-aircraft machine guns and GRAD rockets by both sides. In addition, forces affiliated with General Khalifa Haftar have launched aerial strikes, including with combat helicopters and fighter jets. 
Many of those injured and killed in the 2 June fighting appeared to have been local residents. A woman called Afiya Ibrahim Ahmad was killed by a stray bullet as she was standing on her balcony in al-Kish area. Meanwhile, Faraj al-Jehani, a 24-year-old dentistry student, was killed in the early hours of 2 June after his house was hit by a shell. His younger brother sustained a shrapnel injury in the leg. On the same day, several wards of the Ibn Sina clinic, a hospital managed by the Libyan Red Crescent Society, were damaged by shrapnel, including the intensive care, maternity and physiotherapy units and a building housing medical staff. An employee at the clinic told Amnesty that the work of the clinic was suspended for two days as a result of the shelling. 
That same morning 'Ala Mohamed Belashar, an ambulance driver, was killed after a shell hit his car as he was rushing to help evacuate the wounded. Thereafter Ali Saleh al-Slini a 20-year-old employee of the state Pension Fund, was allegedly shot dead as he was attempting to help injured people. His father told Amnesty: "Ali was on his way to work when he found himself in the middle of the clashes in Tabalino. It was about 8.30 or 9am. He stopped to help an ambulance driver who had been injured. After he picked him up in his car, he drove about 40 to 50 metres when he saw more injured and killed people. He got out of his car to help them and was shot in the head and injured in the back." A forensics report reviewed by Amnesty states that he died as a result of a gunshot wound to the head and shrapnel injury to his back.   
Internally-displaced Tawargha     
In earlier clashes, six residents of the camp for internally-displaced Tawargha people in Qar Younis sustained light shrapnel injuries as a result of the fighting in the area on 26 May. Two children were among the injured, including a 12-year-old boy called Ibrahim Salem Ali Musbah, who was hit with shrapnel in the shoulder. One of the camp's residents told Amnesty: "We were all sitting in our house, when we heard a loud noise. We went outside to see what had happened, and saw that one of the houses was hit by shrapnel. One girl was injured. As we were standing outside her house, about ten minutes later, we were hit by another piece of shrapnel. I was wounded in the leg".
According to UNHCR, the UN refugee agency, by the end of May some 550 internally-displaced Tawargha have been re-displaced since the beginning of the fighting in Benghazi. On 17 May, all residents of Sidi Faraj camp fled their accommodation seeking refuge in other camps for internally-displaced persons. Many are now hosted in a school and nursery in Qar Younes camp placing an additional burden on the poorly-resourced camp. Others were forced to share homes with relatives in al-Hillis camp, which is mainly composed of makeshift shelters made of plastic pipes. Elderly people residing in another Tawargha camp known as the Institute for the Deaf were evacuated for a period of ten days earlier in May due to the proximity of the fighting in Sidi Faraj. 
Background: General Khalifa Haftar's campaign
Since the toppling of Colonel al-Gaddafi in 2011, hundreds of assassinations targeting mainly security officers, but also judges, activists and journalists have taken place in Benghazi. In protest at the killing of judges and the deteriorating security situation, courts and prosecutors suspended their work earlier this year. Foreign nationals, in particular non-Muslims, have also been deliberately killed, at times following abductions by unknown assailants. In recent months, there has been an alleged increase of abductions for ransom. The Libyan authorities have failed to investigate these crimes.   
Acting independently from the central government in Tripoli, several army units, including the Special Force, the Air Force and tribal armed groups, have joined former General Khalifa Haftar's campaign to fight "terrorism" since its launch on 16 May. The central government has denounced the operation but has been unable to end the violence. Most of the fighting has taken place in the areas of Sidi Faraj, al-Hawari and al-Qawarshah, where the military bases of Ansar al-Sharia and other groups are said to be located, as well as in the vicinity of the Benina area, which houses the Air Force base. 
At least 79 people were killed and 141 were injured by the evening of 17 May, according to a Ministry of Health official. The number of casualties among Ansar al-Sharia and militia members fighting alongside the group remains unknown.