Lebanon: pro-government attackers on motorbikes torch protest camps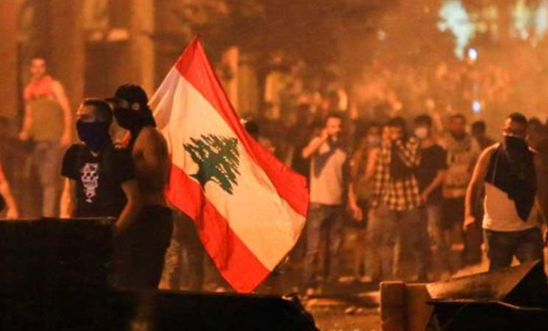 Protesters have been calling for an end to corruption and for economic reform © Getty Images
Protesters' tents set on fire and protesters chased down alleys by organised gangs armed with knives and steel batons
Attacks across past two nights 'could well signal a dangerous escalation' - Lynn Maalouf
Responding to attacks by armed groups - some riding motorbikes and waving flags of the governing political parties Hezbollah and Amal - against peaceful protesters in the Lebanese capital Beirut and the southern city Sour, Lynn Maalouf, Amnesty International's Middle East Research Director, said:
"This is not the first time that supporters of these two parties have attacked a site of protest. 

"But the past two days' seemingly coordinated attacks could well signal a dangerous escalation. 

"The authorities must act immediately to protect protesters and uphold the right to peaceful assembly. This must include holding accountable perpetrators of human rights abuses, such as these violent attacks.

"Military and security forces have a duty to ensure that the right to peaceful protest is upheld and to protect all individuals from violent attacks by rival protesters and armed individuals."
Tents set on fire by gangs on motorbikes
Over the past two nights (24 and 25 November), groups of men riding motorbikes and carrying flags from governing political parties Hezbollah and Amal have ridden around various major roads in the capital Beirut and in Sour, chanting anti-protest slurs, including statements inciting violence against protesters. 
The motorbike gangs then conducted attacks on protest sites in Beirut's Martyr's Square and Sour's Alam Square, where protesters have gathered over the past month. 
On 24 November, the attackers threw stones and used knives and steel batons against protesters gathered at the Ring bridge in Beirut. The army responded by throwing tear gas canisters to disperse attackers and protesters, deploying a human shield to separate the two groups. Those carrying out the attack then chased protesters into neighbouring streets, destroying cars and smashing shop windows on the way, before destroying - for the second time in less than a month - protesters' tents in Martyrs' Square. The government medical body, the Lebanese Civil Defense, reported that ten protesters were injured in the attacks. 
The following night (25 November), motorcycle convoys attacked Alam Square in Sour, setting fire to several tents, while similar convoys paraded in Beirut in front of protest sites.