Leaked briefing shows UK Government's 'total disregard' for women in Northern Ireland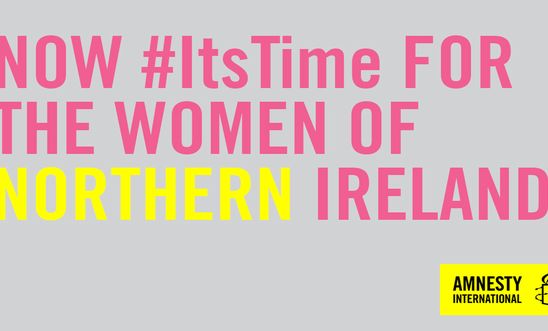 Leaked Northern Ireland Office briefing document for Northern Ireland Secretary is 'deeply concerning' on issue of abortion. 
It is deeply concerning that the UK Government is continuing to deny its responsibility to the women of Northern Ireland, Amnesty International has said today (18 June), in response to a leaked Northern Ireland Office document on key issues including abortion.
The briefing document, which was prepared for the Northern Ireland Secretary of State, was leaked to media last night.
The document states that the UK Government believes abortion is a matter for the politicians of Northern Ireland and goes on to say that the Government has no plans to amend Northern Ireland's abortion law. The document refers to action which has "already been taken in this area" regarding free abortion services in England. It also states that despite the Government having no plans to legislate, this "doesn't prevent others from introducing such legislation if they so wish", and clarifies that "Government's policy is to allow a free vote". This shows a clear disregard for the fact that Westminster has the power and responsibility to bring Northern Ireland abortion law in to line with human rights standards.
Grainne Teggart, Northern Ireland Campaigns Manager, said:
"It's deeply concerning and, frankly, unacceptable that the UK Government continues to abdicate its responsibility to women here. With every passing day, Westminster is failing women who continue to be harmed under the near total abortion ban. A focus on restoring the devolved Government in Northern Ireland is, of course, important, but this should not, and must, not prevent progress being made on this issue.

"The leaked briefing refers to measures introduced last year that give women in Northern Ireland access to free abortion services in England, implying that this is the limit of the UK Government's responsibility on the matter. This is absolutely not the case and shows the Government's total disregard for vulnerable women who are unable to travel. The UK Government can and must decriminalise abortion and enable access to free, safe and legal services.

"It's clear that some in Government are happy for women to continue to fight through the courts or leave it to other MPs to drive through much needed change. This is shameful. 

"We're actively working with MPs across the various parties who are committed to abortion reform, and a clear way forward has now been established. Change is coming. The Government can run, but it cannot hide."