Leading Bahraini activists event on eve of Bahrain Grand Prix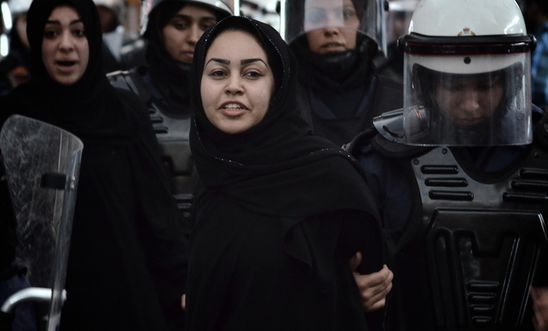 Protests and arrests have continue unabated in Bahrain for the past four years © MOHAMMED AL-SHAIKH/AFP/GettyImages
Amnesty International UK is hosting a panel discussion event on the human rights crisis in Bahrain on Friday 17 April (6.30pm), the eve of the Grand Prix race tournament in the Gulf state.
The event - "Bahrain: Silencing Dissent" - will bring together Jalila Salman, a prominent Bahraini teacher who was jailed for her part in the country's protest movement, Jalila Sayed, lawyer for Nabeel Rajab - an activist who has similarly been jailed several times for his protests and comments on social media - and Sayed Ahmed al-Wadaei, a leading Bahraini campaigner based in the UK.
Earlier this year the UK's Foreign Secretary Philip Hammond praised Bahrain as a country "travelling in the right direction" shortly before Nabeel Rajab was sentenced to six months in prison for an "insulting" tweet. Mr Rajab was arrested again earlier this month.
Amnesty's event comes on the eve of the country's hosting of the Grand Prix, which in the past has been used by the Bahraini authorities as a public relations tool to distract attention from the country's poor human rights record. The 17 April event also comes a day after Amnesty publishes a major new report on Bahrain which is expected to show clear signs of a continuing crackdown in the country.
Details of the event:
Jalila Salman, former Vice-President of the Bahrain Teacher's Association and former prisoner of conscience 
Jalila Sayed, lawyer for Nabeel Rajab, President of the Bahrain Centre for Human Rights and former prisoner of conscience (via Skype) 
Sayed Ahmed al-Wadaei, Director of Advocacy at the Bahrain Institute for Rights and Democracy 
A representative of Amnesty International's Bahrain Team
Shane Enright, Amnesty International Global Trade Union Adviser (chair of event)
The panel discussion will start promptly at 6.30pm and will be followed by a drinks reception.
The event - which is sponsored by UK teaching trade unions - is free, though booking (go
here
) is recommended.