Kosovo: announcement that KLA to be indicted over killings strongly welcomed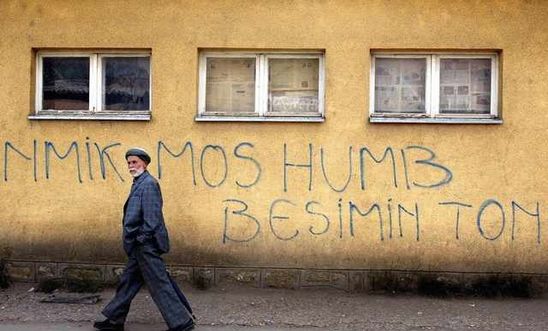 An ethnic Albanian in the capital Pristina passes graffiti reading 'UNMIK [UN mission in Kosovo] don't lose our trust' © Ermal Meta/AFP/Getty Images
'This is hopefully a step towards justice for the families of up to 400 Kosovo Serbs believed to have been abducted by the KLA' - Sian Jones
Amnesty International has strongly welcomed today's announcement that former leaders of the Kosovo Liberation Army (KLA) will be indicted for the abduction, inhumane treatment and killing of Kosovo Serbs and ethnic Albanians believed to oppose the KLA in 1999.
In a statement for the Special Investigative Task Force, established by the EU, Chief Prosecutor Clint Williamson has outlined charges to be brought against senior KLA officials.
The Chief Prosecutor acknowledged the widespread and systematic nature of the abductions and murders, and assured that former senior KLA officials will be indicted for crimes against humanity. 
However, the Chief Prosecutor has been unable to issue indictments against the as-yet unnamed suspects, as the specialised court being established to try the suspects, outside of Kosovo, will not open until 2015.
Amnesty International's researcher on Kosovo, Sian Jones, said:
"This is hopefully a step towards justice for the families of up to 400 Kosovo Serbs believed to have been abducted by the KLA, and subsequently transferred to Albania, where they are alleged to have been killed.

 

"The European Union, and the Kosovo authorities, must now act immediately to ensure that the specialised court is established as soon as possible. Any further delay may well lead to impunity and the further intimidation of potential witnesses."