Kirkuk, Iraq: Kurdish authorities bulldoze hundreds of Arab homes in anti-ISIS reprisals - new briefing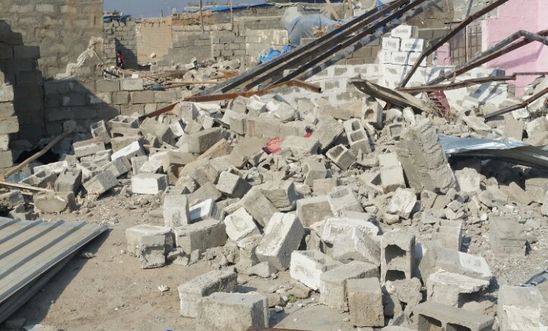 Some people have now been forced out of their homes by Kurdish forces twice in a year © Amnesty International
One distressed resident shot himself after bulldozers destroyed his home
The Kurdish authorities in the northern Iraqi city of Kirkuk have carried out a wave of house demolitions - driving out hundreds of Arabs - as apparent revenge for an attack carried out by the Islamic State armed group last month, said Amnesty International in a briefing published today.
In the aftermath of a surprise ISIS attack on eight different locations across Kirkuk on 21 October, many residents say they were ordered to leave the area and had their identity cards confiscated. Among those affected are an estimated 250 families who had previously been displaced from other areas of Iraq and had sought safety and shelter in Kirkuk.
At least 190 families were also forcibly displaced by Kurdish Peshmerga and Asayish forces from the Qotan and Qoshkaya villages in the Dibis district of Kirkuk governorate. Most were moved to camps for internally displaced people or sought shelter with relatives in nearby villages. ISIS forces had attacked a power station in Dibis on 21 October, killing 12 guards and employees.
Amnesty's briefing -
'Where are we supposed to go?': Destruction and forced displacement in Kirkuk
- is based on interviews with residents, internally-displaced people, community leaders, activists and local politicians, and is supported by photographic evidence of destruction and statements from officials. It shows that while there have been earlier attempts to forcibly return displaced Sunni Arab people, since the 21 October such attempts intensified. 
"Muhayman" (whose name has been changed to protect his identity), a 40-year-old father of ten from a village south-west of Kirkuk, has been forcibly displaced twice by Kurdish forces - first in 2015 and most recently on 25 October. He described to Amnesty how men in military uniform came to the Manshiya area of the Wahed Huzairan neighbourhood of Kirkuk city and ordered residents to leave by morning. Early the next day they were forcibly evicted and bulldozers demolished homes late into the night. He said:
"I was ordered by Peshmerga out of my own village, so I built a home here … Now we are homeless again, and we are all sheltering with my brother. Where are we supposed to go?"
The neighbourhood, which had consisted of hundreds of houses, was razed to the ground leaving only around ten homes standing, he said. 
"Ahmed" a Kirkuk city resident whose home was demolished on 25 October, described chaotic scenes with residents rushing to save their possessions as tractors and bulldozers rolled into the locality. He said one of his neighbours was so distressed he shot himself after his home was demolished. Other residents interviewed by Amnesty corroborated this account.
One man who fled with his family from Diyala to Kirkuk in August 2014 said security forces openly blamed him for the ISIS attack. "We give martyrs to fight Daesh and you bring them here and harbour them in these houses," they told him. 
Then man was forced to go back to Diyala together with his relatives despite a well-documented pattern of unlawful killings and abductions of Sunni Arabs at the hands of militias there. Publicly, the Governor of Kirkuk has committed not to return internally-displaced people to areas still under ISIS control or where clashes are ongoing, such as Mosul and the surrounding areas. International law and standards dictate that the return of displaced people to their homes must be voluntary. 
Lynn Maalouf, Research Deputy Director for Research at Amnesty International's Beirut office, said:
"The authorities in Kirkuk are undeniably facing a serious security threat, but that cannot justify bulldozing people's homes and forcibly displacing hundreds of Arab residents. 

 

"Forcibly evicting and displacing Sunni Arab residents of Kirkuk is unlawful and cruel. 

 

"Deliberate destruction carried out without military necessity is a war crime. Ordering the displacement of civilians - unless necessary for their own security or for reasons of imperative military necessity - also is a war crime.

 

"Many of those affected are people who have already been forced to leave their homes because of the violence engulfing the country. Now they are being forcibly displaced or made homeless yet again.

 

"The Kurdish authorities must immediately put an end to unlawful destruction of civilian property and forced displacement."
Downloads