Killing of Jordanian pilot 'abhorrent' but 'revenge killings' not the answer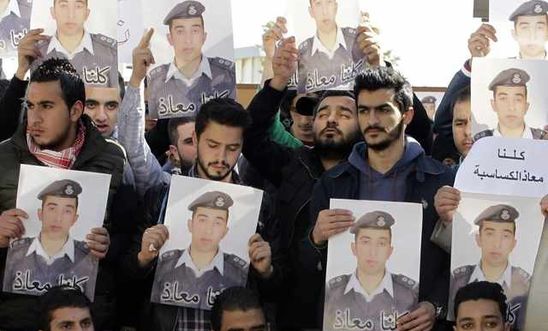 Moaz al-Kasasbeh's plight had been the subject of a major campaign © KHALIL MAZRAAWI/AFP/Getty Images
'The IS's gruesome tactics must not be allowed to fuel a bloody cycle of reprisal executions' - Philp Luther
The vicious summary killing of the Jordanian pilot Moaz al-Kasasbeh by the Islamic State armed group is an atrocious attack against humanity, Amnesty International has said, but the organisation also responded to overnight events by saying that executions are not the answer to such crimes.
A video showing al-Kasasbeh being burned alive in a cage has sent shockwaves across the world, and at dawn this morning the Jordanian authorities executed Sajida al-Rishawi and Ziad al-Karbouli, two Iraqis linked to al-Qa'ida, in apparent revenge for his killing. 
Sajida al-Rishawi was on death row for her role in the 2005 bombing in Amman that killed 60 people. According to a report by the UN Special Rapporteur on torture following his visit to Jordan in 2006, al-Rishawi was tortured during interrogation over a month-long period in the custody of Jordan's General Intelligence Department, while her lawyer's request for her to undergo psychiatric assessment to assess her mental fitness prior to her trial was refused by the court. 
Meanwhile, Ziad Karbouli, the second person executed this morning, was convicted on charges of belonging to an illegal organisation, possessing explosives leading to death of a person and murder. His lawyer told Amnesty that he had been forced to confess under duress. 
Today's hangings come after Jordan executed 11 men in December, executions which ended an eight-year halt in judicial killings in the country. Amnesty is calling on Jordan to immediately establish an official moratorium on executions with a view to abolishing the death penalty
Islamic State has killed dozens of its captives in the past year, including in the past month the Japanese journalist Kenji Goto and a second Japanese hostage, Haruna Yukawa. Under international humanitarian law, holding hostages is a war crime and all detainees should be treated humanely by their captors. Amnesty is calling on Islamic State to cease summary killings, abductions and hostage-taking.
Amnesty International Middle East and North Africa Director Philip Luther said:
"The killing of Moaz al-Kasasbeh while he was trapped in a cage in such a brutal and orchestrated manner shows the savagery that a group like the IS is capable of.

 

"The abhorrent killing of Moaz al-Kasasbeh is a war crime and an all-out attack on the most basic principles of humanity.

 

"The Jordanian authorities are rightly horrified by this utterly reprehensible killing but the response should never be to resort to the death penalty.

 

"The death penalty should also not be used as a tool for revenge.

 

"The IS's gruesome tactics must not be allowed to fuel a bloody cycle of reprisal executions."