Kenya: police killings and 'vengeful attacks' amid election chaos - new testimonies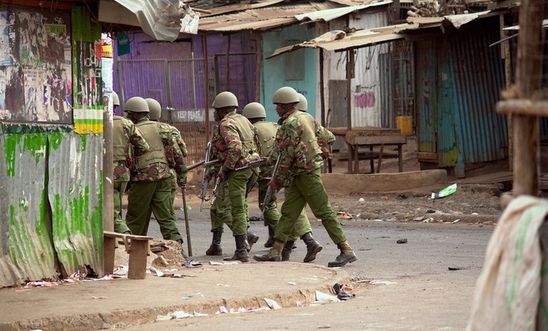 Fatal police shootings in food markets and people's homes in attempt to punish election protesters
One man was dragged by police to a sewage ditch and forced to drink from it
"What we are witnessing appears to be punitive policing; a blatant attempt to intimidate and punish residents in the opposition stronghold" - Justus Nyang'aya
Heavily-armed police are using unlawful force against protesters and bystanders in the western Kenyan city of Kisumu in what appears to be a deliberate campaign to punish people for continuing to protest amid chaotic elections over the past week, Amnesty International can report today.
In Nairobi, instances of police brutality were interspersed with acts of violence and intimidation by supporters of the two main political figures in the country – incumbent President Uhuru Kenyatta and opposition leader Raila Odinga.
Justus Nyang'aya, Head of Amnesty International Kenya, said:  
"In Kisumu, the evidence we gathered paints a grim picture of police shooting, aggressively assaulting, and even breaking into the homes of people suspected to be protesters and those who happened to be in the vicinity of protests. People have been seriously injured or shot while buying food in the market, walking home from school or resting in their homes.
"What we are witnessing appears to be punitive policing; a blatant attempt to intimidate and punish residents in the opposition stronghold."
Killings and indiscriminate shootings
On Thursday (26 October), the day that people went to the polls, at least two men were fatally shot by the police in election-related violence in Kisumu. Another man died of injuries that suggest he was badly beaten with a large blunt object in circumstances that remain unknown. A community worker was also fatally shot in the slum area of Mathare North in Nairobi. All of the available evidence points to the police, who were in the area dealing with protests, as being responsible. However, the police have not acknowledged the shooting.
Amnesty spoke to seven other people who were recovering after having been shot by the police in Kisumu, including a 16-year-old boy. Most cases appear to be the result of random police shooting at those they considered to be protesters.
Justus Nyang'aya said:
"While some of the protesters in Kisumu have been violent, hurling stones and using slingshots, the response of the police is seriously disproportionate and at times bears a closer resemblance to vengeful attacks than legitimate policing.
"The indiscriminate use of live ammunition against protesters must stop immediately. Firearms must never be used to disperse crowds and police officers must be given clear instructions from their superiors to only use methods allowed by both Kenyan and international law."
Punitive policing in Kisumu
Amnesty has documented the injuries of seven people who say they were attacked and beaten by police in Kisumu between 24 and 27 October; four of these incidents occurred in their own homes after police burst in.  
A man in his thirties, who sells food cooked by his mother, told Amnesty that he was shot while on his way to buy vegetables at Kondele market. He said that when he saw the police with guns, he sank to his knees and put his hands up. He said that a police officer shot at his raised left hand and hit his fourth finger. Another officer dragged him to a nearby sewage ditch, forcing him to drink from it. He was then beaten and his injured hand smashed with the butt of a gun.
A 25-year-old man ran into his house in Kondele when police rushed into the neighbourhood on 27 October at around 8pm. He told Amnesty: "I had got inside and locked the door, then they [police] broke the door down… When they started beating me on my head with rungus [batons], I started defending myself with my arms… They were just hitting me everywhere. On my back it is very painful if anyone touches me. Also on my ribs." In addition to stitches under his eye, and bleeding wounds on his arm, he has a fractured skull. A doctor described the force necessary to create such injuries to the skull and subdural area as "like being in a motorcycle accident".
One woman said that she was in her house when eight armed police kicked the door down and burst in. They started beating her 20-year old son with batons, hitting his left eye, left leg and left hand. When she pleaded with them to stop, they kicked her in the stomach. She said: "They came inside and told us 'you are the people throwing stones'. I said it was not us. They told us to show our hands. We showed our hands and they said that this hand was for throwing stones, and they beat him. I cried".   
Police abuses in Nairobi unreported
In Nairobi, several police shootings appeared to have gone unacknowledged by the authorities. In addition to a community worker fatally shot in the slum area of Mathare North on 26 October, sources have reported that at least four other people have suffered gunshot wounds in the area in the past few days. Amnesty researchers have also received credible evidence of police beatings. Amnesty is following several other cases of police using excessive force on the day of, and after, the elections. Many of these cases have not been reported to the police or by the police. Victims were particularly frightened to speak on the record, fearing reprisals from the police.
Investigations essential
In both Nairobi and Kisumu, police were facing protests and attempts to prevent polls opening, including by blockades at some polling stations and intimidation of voters. The police have a legitimate role to play in ensuring that anyone who wishes to vote can do so safely. They are also permitted to respond if protests become violent but only with the minimum force necessary to contain the situation.
Use of firearms is only justified if the police, or an individual they should protect, are facing imminent threat of death or serious injury. In none of the cases described to Amnesty have the police acted in a manner that was legitimate and proportional. Many of those shot appear to have been hit because police fired live rounds indiscriminately. Some were clearly bystanders. All of the cases of intentional beatings amount to a violation of the rights of the individuals.
Justus Nyang'aya said:
"The failure of the police to disclose clear information on fatal shootings is deeply concerning. All shooting incidents should be immediately investigated by the Independent Policing Oversight Authority.
"If the actions of the police are to be reined in and brought in line with internationally-recognised policing guidelines, it is essential that the perpetrators of such violations – and those who may have command responsibility for them - are brought to justice."