Kenya: arrest of Amnesty Kenya's chairperson is an 'attack on human rights defenders'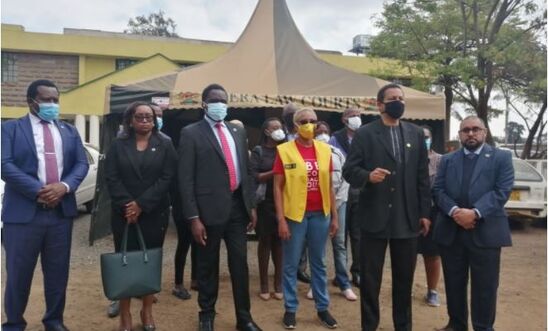 © Amnesty International Kenya
Renee Ngamau was arrested in her home yesterday evening for rallying neighbours to oppose a private development on a public playground
Police didn't show at her court hearing today
'We call on the authorities to drop any charges' - Irungu Houghton
The Kenyan authorities must drop charges against Amnesty International Kenya's Chairperson, Renee Ngamau, Amnesty International said, following her arrest yesterday evening.
Ngamau - who is also the chairperson of her Jamhuri Phase 1 neighbourhood in Nairobi - was arrested yesterday (14 September) for rallying her neighbours to peacefully oppose a private development on public land designated as a playground. She was arrested at her home by eleven police officers.
Ngamau was released on bail last night and ordered to appear before the Kibera Magistrate's Court in Nairobi today, but the police didn't show up. After more than two hours of waiting in the court and no charges given, she presented herself to the Kilimani Police Station to prevent re-arrest.
Irungu Houghton, Amnesty International Kenya's Executive, said:
"Amnesty condemns the arbitrary arrest of our Kenya Chairperson Renee Ngamau.

"We believe she was targeted simply for as acting as human rights defender to protect public land.

"The Kenyan Police Service must end harassment, intimidation and attacks on Renee Ngamau, human rights activists and public land defenders.

"We call on the authorities to drop any charges and direct their energies towards investigating and prosecuting those responsible for the diversion of land away from public use."