Kazakhstan: thousands with intellectual disabilities denied basic rights - new report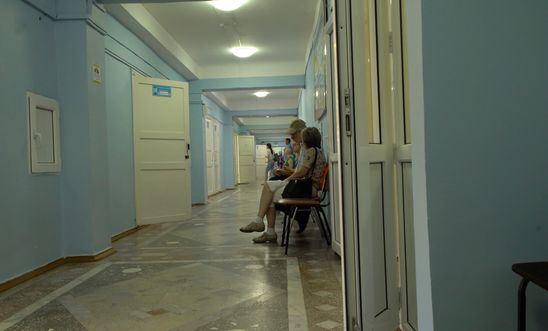 Legal capacity can only be restored if the person is judged to have been 'cured' © Anthony Cole
At least 16,000 people with psychosocial and intellectual disabilities denied right to make own decisions about study, work or marriage
'Guardianship' system is legacy of Soviet psychiatry
'Once a person is declared "incapable", he or she literally has no legal recourse' - Heather McGill
Thousands of people with psychosocial and intellectual disabilities in Kazakhstan face stigmatisation and isolation from society and are prevented from exercising their human rights, Amnesty International said today as it launched a new report calling for change and the respect, protection and fulfilment of human rights.
 
Amnesty's 35-page report - 'We are like dead souls': Life without Legal Capacity in Kazakhstan - shows how Kazakhstan's current laws mean people with psychosocial and intellectual disabilities have been declared "incapable" by law and put in the care of a guardian (often a close relative). Under this system they cannot exercise their rights and are not able to challenge the decision in court. 
The report - based on interviews with individuals who have at some point been declared "incapable", their relatives, psychiatrists, NGO workers, lawyers and healthcare officials - includes the case of Margarita Luchenkova, who was declared "incapable" in her absence by a court on the application of her brother in October 2014. 
Despite her status, she lives independently, runs a small business, manages her own financial affairs and cares for her mother who has a disability. However, by law she cannot control her own property and cannot independently approach any public authority. Doctors do not need Margarita's informed consent to treat her and she can be hospitalised at the request of her guardian. She is fighting to regain her legal capacity, but as an "incapable" person she cannot defend her rights in court or change her guardian. Margarita told Amnesty:
"I believe that depriving someone of legal capacity should not depend on what a person is diagnosed with."
Legal capacity can only be restored if the person is judged to have been "cured" and if their guardian, or a prosecutor, applies to restore it. In practice, it is very rare for legal capacity to be restored and most people will remain under guardianship for life. Between 2014 and 1 April this year, only 14 people regained their legal capacity. There are at least 16,000 who have been deprived of it in Kazakhstan. 
Another person in this position is Vadim Nesterov. He spent his whole childhood in orphanages after being diagnosed as having "mental retardation." At the age of 18 he was transferred to an adult psychiatric hostel and was declared "incapable" without being informed. Vadim told Amnesty:
"I went to the bank with a social worker and was given some money. Then I heard them call me 'incapable'. I went to the director and asked: 'Why did you do that? Am I an invalid?' He said: 'No it is not because of that. It is because you are living at the state's expense and you are given everything you need'."
Since 2017, Vadim has been living with three others in a sheltered housing project run by the NGO, The Association of Psychoanalysts, and is currently working in their training cafes.
Heather McGill, Amnesty International's Central Asia Researcher, said:
"Once a person is declared 'incapable', he or she literally has no legal recourse. They lose the power to make decisions about their own life.

"By law, they cannot study or work and they have no right to marry. From the moment the decision is made they are trapped, as courts will only hear challenges to the status if they are submitted by a guardian. Persons with psychosocial and intellectual disabilities in Kazakhstan are stuck in a vicious circle.

"Guardianship in Kazakhstan is a relic of a system that condemned persons with disabilities to a life in institutions hidden from the public gaze.

"The criteria for depriving people of legal capacity are vague and set a low threshold considering the devastating consequences of such a decision. Deprivation of legal capacity on the basis of a medical diagnosis is squarely at odds with a human rights-based approach to disability.

"Kazakhstan must abolish guardianship and guarantee human rights for all."
In breach of international obligations
Amnesty has highlighted how Kazakhstan is falling short of its obligations as a state party to the Convention on the Rights of Person with Disabilities, a treaty the country ratified in 2015. Amnesty is calling on the Kazakh authorities to lay out a timetable for establishing an adequate system of support for people with psychosocial and intellectual disabilities - one based on the actual capacity of the people concerned and tailored to their needs. 
Note on terminology
The Convention on the Rights of Person with Disabilities does not define disability, but in Article 1 it offers a basis for understanding to whom the convention applies and was intended by the drafters to serve as a baseline for countries in defining disability for various purposes in legislation. Amnesty uses the terms psychosocial and intellectual disabilities in respect of conditions commonly referred to as "mental health conditions".