Jordan's response to border bombing must not mean barring desperate Syrian refugees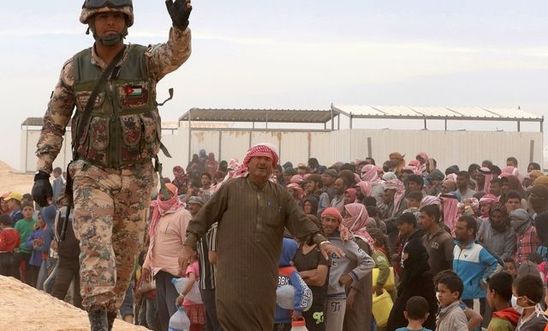 A Jordanian soldier and refugees at the Hadalat crossing last month © Khalil Mazraawi/AFP/Getty Images
70,000 refugee lives 'hang in the balance' - Sherif Elsayed-Ali
Jordan's "iron fist" security response to yesterday's car bombing of a military outpost along its border with Syria must not lead to a total closure of the border and the denial of humanitarian aid to tens of thousands of Syrian refugees fleeing armed conflict, Amnesty International said.
The attack - which killed six army border guards and injured several others - targeted the Rukban crossing in a remote desert area near where the borders of Jordan, Syria and Iraq meet. 
Jordan's King Abdullah II has said his government would respond with "an iron fist" and the border crossings were yesterday sealed. Jordan's Information Minister, Mohammed Momani, said: "We are taking specific immediate steps. The first one is to close that … [border] crossing … and consider this area a closed military zone. We are also not building nor expanding any existing refugee camps."
More than 70,000 people are presently stranded in the desert area known as "the berm", which is a raised barrier of sand marking the Jordanian limit of the Jordan-Syria border near the Rukban and Hadalat crossings. Humanitarian workers estimate that if the situation continues, there will be 100,000 Syrians stranded at the berm by the end of the year. A total closure of the border and denial of humanitarian aid to the area would inevitably lead to extreme hardship among those unable to find refuge, putting their lives at risk.
Amnesty International's Head of Refugee and Migrants' Rights Sherif Elsayed-Ali said:
 

"Tens of thousands of refugees are trapped near where this attack took place. Many have fled some of the worst-affected areas of Syria including Aleppo, Deyr al-Zur, Homs, Hama and al-Raqqa. Their very lives continue to hang in the balance at the border.

 

"Jordan has a duty to protect civilians from armed attacks - but its security measures must not violate its international legal obligations to provide protection and assistance to refugees who are desperately fleeing the very same type of violence. Denying them entry into Jordan amounts to a violation of international law."
Two years of build-up at the berm
In mid-2014 Jordan effectively closed its eastern borders to Syrians fleeing the conflict, which has led to a gradual build-up of people at its Rukban and Hadalat border crossings. Last November there were around 9,000 Syrians stranded, with the numbers gradually increasing. Currently more than 60,000 people are staying in dire conditions near Rukban border crossing and more than 10,000 near Hadalat border crossing, hoping for permission to seek safety in Jordan. In March 2016 Jordan reportedly agreed to admit up to 20,000 refugees stranded at the border crossings to Azraq refugee camp. However, those admitted have been kept in a fenced area within the camp, known as "Village 5". 
Jordan currently hosts more than 650,000 Syrian refugees registered by the UN Refugee Agency. Amnesty has repeatedly called on the international community to increase support to Jordan as a main refugee-hosting country, including through fully funding the 2016 Jordan Response Plan and increasing the number of resettlement places offered. As of 12 June, the Jordan Response Plan was only 6.2% funded.