Jordan: injured Syrian refugees turned away at border - new report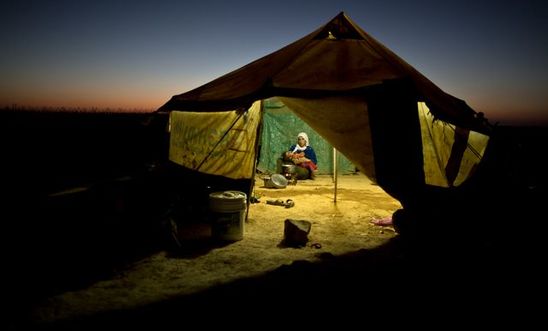 A Syrian refugee at an informal tented settlement near the city of Mafraq, by the Syrian border © AP/Muhammed Muheisen
Thousands of Syrian refugees in country also blocked from accessing health services 
Injured Syrian refugees attempting to cross the border into Jordan have been denied access by the Jordanian authorities and have later died, said Amnesty International in a new report today, with Amnesty also saying that thousands of Syrians already in Jordan are unable to access healthcare there. 
Amnesty's 35-page report - Living on the margins: Syrian refugees struggle to access health care in Jordan - details the case of four Syrian refugees with shrapnel wounds - including a three-year-old girl - who died while waiting at the border.
In another case, a 14-year-old boy suffering from injuries that left him in a critical condition, was denied entry because he was unable to produce ID documents. He died the following day at a field hospital in Syria. Others denied entry included a two-and-a-half-year-old girl who had suffered head injuries due to a barrel bomb attack.
Since 2012 Jordan has imposed increasing restrictions on access for Syrians attempting to enter the country through formal and informal border crossings, though supposedly making an exception for Syrians with war-related injuries. In some cases, families have also been separated at the border and others have been forcibly returned to Syria after being barred from entering because they did not have Syrian ID. 
Amnesty International's Head of Refugee and Migrants' Rights Sherif Elsayed-Ali said:
"To not even allow entry to people who are fleeing a conflict zone with serious injuries because they don't have ID papers shows a chilling lack of compassion and appalling disregard for their rights to health and life.

 

"Closing the border to those in need of asylum, whether or not they are injured, is a violation of Jordan's international obligations."
Healthcare unavailable to Syrians in Jordan
Amnesty's report also highlights how many of the 500,000-plus Syrian refugees in Jordan who do not reside in refugee camps are either unable to afford medical care since the Jordanian authorities imposed new fees in November 2014, or lack the necessary documents to be eligible to access health care. According to the UN Refugee Agency, UNHCR, well over half (at least 58.3%) of Syrian adults in Jordan with chronic conditions are not able access medicines or other health services.
Around 117,000 Syrian refugees live in three refugee camps in Jordan where they have access to education, health care, water, food and cash for work programmes, provided by the UN and other bodies. However, the majority of Jordan's 630,000 Syrian refugees registered with the UNHCR live outside refugee camps and require specific documents, including a card issued by the Ministry of Interior to access public services. Refugees who have left refugee camps unofficially or who have re-entered Jordan after having returned to Syria are also not eligible to receive these documents and therefore cannot access public services leaving them reliant on humanitarian aid or private donors. 
One Syrian refugee - Sarah - lost her left leg at the age of eight after being injured in a rocket attack in Eastern Ghouta, north east of Damascus. Her family came to Jordan so that she could get further treatment. At first they stayed in Zaatari refugee camp where she received health care and a prosthetic limb. However, they left the camp after receiving threats from other refugees and have been unable to access public services ever since due to a lack of documentation.
Even for Syrian refugees who are eligible to health care it can often be unaffordable. Three women interviewed by Amnesty who had recently given birth at an NGO hospital in Irbid in Jordan said they had delayed crucial antenatal check-ups because they could not afford public hospital fees and transport costs.
Sherif Elsayed-Ali added:
"While Jordan is undeniably under a huge strain from hosting hundreds of thousands of refugees from Syria with limited international support, the authorities cannot ignore their obligation to ensure that all persons are able to access health services."
Amnesty's report is published ahead of a UNHCR meeting on 30 March where countries will be invited to pledge resettlement places and alternative pathways for the admission of Syrian refugees. It is an opportunity for governments to show solidarity with the five countries hosting over 4.8 million refugees from Syria, and to provide a lifeline to those in need of it.  So far the international community has pledged just 178,195 resettlement places for Syrian refugees. Amnesty is calling for at least 480,000 of the most vulnerable refugees in the five main host countries - which includes those with disabilities, chronic illnesses or injuries - to be resettled to a safe third country. 
Downloads