Jordan: deportation of 800 Sudanese asylum-seekers is 'absolute disgrace'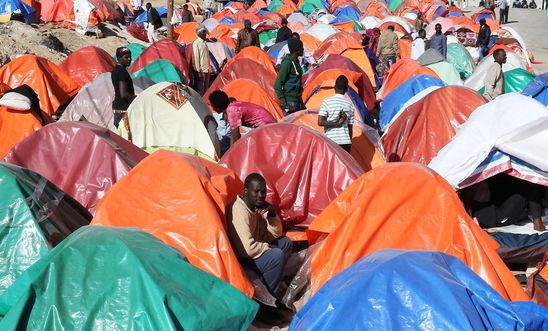 Sudanese refugees from Darfur are being forced back to a perilous situation in Sudan © AFP/Getty Images
Most are from the conflict-affected Dafur region
Jordan must not deport some 800 Sudanese asylum-seekers back to Sudan as there is a real risk that their lives would be in danger if they are returned to the country, said Amnesty International today.
The group of asylum-seekers are currently being held near Queen Ali International Airport in the capital Amman, having been taken from outside UNHCR's office in Amman in the early hours of Wednesday morning and transferred to an industrial area by the airport. 
There are media reports that over half of the group have already been flown out of the country.
Amnesty International's Refugee and Migrants Rights Reseacher Francesca Pizzutelli said:
"It is an absolute disgrace that Jordan is about to deport these asylum-seekers back to a country where they will be at real risk of human rights violations and their lives will potentially be in danger.

 

"Most of these people have fled from Darfur, where they would face a real risk of persecution, brutal repression and other human right violations by the Sudanese government in the region. 

 

"Amnesty International received reports of at least one unconfirmed death, the use of tear gas and beatings. If these reports are confirmed, the action of the Jordanian authorities can only be described as despicable. 

 

"It beggars belief that the Jordanian authorities are now resorting to brutality against these women, men and children who are seeking safe haven."
For many years, Jordan has hosted hundreds of thousands of refugees from other countries, including more than 600,000 Syrians. The forcible return of refugees and asylum-seekers is a direct violation of Jordan's obligations under international customary law and shows complete disregard for the affected group's rights and safety.