Jamaica: petition calls on PM to take action after three people a week killed by police last year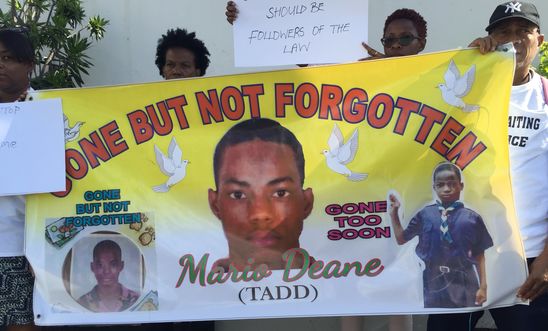 Relatives displayed banners of their loves ones who had been killed by the police © @Aboboudial Twitter
64,000-name petition handed in to Andrew Holness' office on International Day Against Police Brutality
Shackelia Jackson, whose brother Nakiea was killed by police in 2014, among delegation to PM's office
'The deeply troubling wave of killings by Jamaican police cannot continue to go unpunished' - Erika Guevara-Rosas 
Amnesty International and relatives of people killed by police in Jamaica have delivered a 64,000-name petition to the office of Jamaican Prime Minister Andrew Holness in Kingston today calling for accountability for a "deeply troubling wave of killings" in recent years.
Last year, Jamaican law-enforcement officers killed 168 people, an average of three people a week in a nation of 2.8 million. Over the past decade only a handful of police have been convicted for such killings.
A Special Coroner's Court was established in 2011 to conduct inquests into Jamaica's police killings and determine their lawfulness, but the court has built up a long backlog of cases because of a grossly insufficient annual budget covering the cost of just one judge and nominal staff.
Shackelia Jackson's brother, Nakiea Jackson, was killed by police in 2014. In 2016, a preliminary inquiry into the case was dismissed after a key witness expressed their fears over attending court. The Jackson family say they've been subjected to repeated police raids in their community and intimidation in court. Like hundreds of others, the case is now awaiting an inquest.
Shackelia Jackson, who helped deliver today's petition, said:
"The problem in Jamaica is the system. The system is broken. While I know the shooter is responsible for my brother's death, it is the system that has allowed this to happen in this and so many other cases."
Mercia Fraser, the mother of Mario Deane who died after a severe beating in police custody in 2013, and members of the NGO Jamaicans for Justice were also among the delegation that delivered the petition.
Today's hand-in of 64,331 letters and signatures - which took place on International Day Against Police Brutality - is part of a global campaign that's generated half a million interventions from Amnesty supporters worldwide urging the Jamaican government to protect victims' families from police intimidation and guarantee their access to justice.
Erika Guevara-Rosas, Amnesty International's Americas Director, said:
"Tens of thousands of activists from as far afield as Sweden, Taiwan and the Ivory Coast have sent a clear message to Prime Minister Holness that the deeply troubling wave of killings by Jamaican police cannot continue to go unpunished.

"The Jamaican government must bolster the capacity of the Special Coroner's Court to deal with killings by police and address the barrage of structural obstacles and the outrageous intimidation tactics often used by police to prevent victims' relatives from pursuing justice." 
Intimidation of bereaved families
The intimidation and harassment tactics that Jamaican police typically use to silence victims' families form a significant obstruction to justice, as documented in Amnesty's 2016 Waiting in vain report.