Jack Steadman (Bombay Bicycle Club) and Björn Ågren to lead young person's songwriting session at Amnesty HQ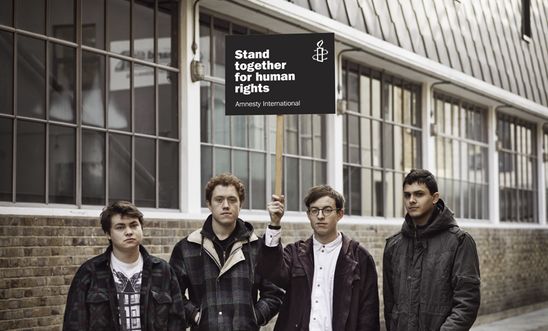 Bombay Bicycle Club's Jack Steadman will give practical advice on songwriting © Leo Cackett
Participants will hear first-hand about songwriting and produce a song about the refugee crisis
Jack Steadman (Bombay Bicycle Club) and Björn Ågren (formerly of Razorlight) are set to work with budding young songwriters to produce a brand new song about the refugee crisis in a special songwriting event at Amnesty International UK's headquarters in east London. 
Along with singer-songwriters Rae Morris, Lucy Rose and Benjamin Francis Leftwich, the musicians will lead a creative workshop with a 20-strong group of 14-18-year-olds on Friday 18 March (11am-3pm).
After a session in which Jack Steadman, Björn Ågren, Rae Morris,
Lucy Rose
 and
Benjamin Francis Leftwich
 provide the teenagers with advice and practical hands-on help with the art of powerful song writing, there will be a live performance of the newly-composed song in the main auditorium of Amnesty's "Human Rights Action Centre".
Media are invited to attend the song's performance to film and conduct interviews.  
Björn Ågren said: 
 

"Turning a great idea in to a fully-formed song is a skill that requires a lot of time to master, so we wanted to take that knowledge and make it available to a group of young people whose minds are full of passion and empathy. I'm very excited to see what we can come up with together."
Amnesty International UK's Campaigns Director Kerry Moscogiuri said:
 

"A brilliantly-written song can touch you like almost nothing else, so it will be fascinating to see if this exciting venture can produce a memorable song about the current refugee crisis which is just so desperate and so important."
What: songwriting workshop event culminating in performance of new refugee song
Who: Jack Steadman (Bombay Bicycle Club), Björn Ågren (ex-Razorlight), Rae Morris, Lucy Rose, Benjamin Francis Leftwich and approximately 20 young songwriters
When: Friday 18 March 2016, 11am-3pm
Where: Amnesty International UK's Human Rights Action Centre, 17-25 New Inn Yard, London EC2A 3EA (Shoreditch)