Italy's cessation of search-and-rescue in Mediterranean could be 'catastrophic'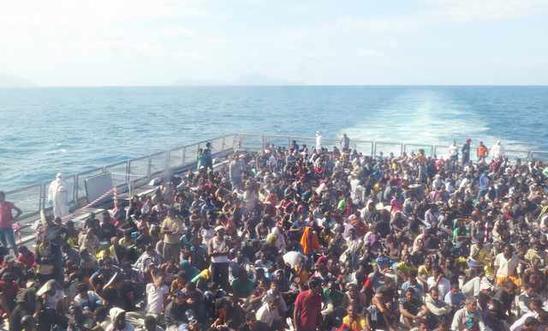 An Italian Navy vessel on a search-and-rescue operation in the Mediterranean in August © Amnesty International
Decision could have 'catastrophic and deadly consequences' - John Dalhuisen
An Italian government plan to end its search-and-rescue operation in the Mediterranean Sea would put the lives of thousands of migrants and refugees attempting to reach Europe at risk, Amnesty International warned today.
Italy's Minister of Interior Angelino Alfano has proposed that the operation - known as "Mare Nostrum" - should end on 1 November.
The cessation of the life-saving scheme is being justified on the basis that a new border operation (known as "Triton") will come into force on 1 November - though Amnesty is emphasising that this measure will offer far fewer protections for refugees and migrants in peril on the Mediterranean seas. 
Since its launch a year ago today, Italy's sea rescue operation has saved the lives of tens of thousands of people. The decision to end Mare Nostrum is due to be on the agenda of one the Italian government's next cabinet meetings.
Even with Italy's Mare Nostrum operation in place, more than 2,500 people are known to have drowned or gone missing in the Mediterranean since the start of this year, and the actual number is likely to be much higher. In September last year, shipwrecks off the Italian island of Lampedusa led to more than 500 deaths and Amnesty has described the loss of life in the Mediterranean as a "moral disgrace."
Amnesty International's Europe and Central Asia Director John Dalhuisen said:
"The Triton operation does not begin to meet the needs of thousands of migrants and refugees, including those forced to flee war and persecution in the Middle East and Africa. The suggestion that it could replace Mare Nostrum could have catastrophic and deadly consequences in the Mediterranean.

 

"Triton is a border operation and does not have a search-and-rescue mandate. It will only operate close to Italian waters and not beyond, where it is most needed.

 

"Italy must continue the Mare Nostrum search-and-rescue operation until there is a better-equipped alternative supported by other European countries - and Triton is certainly not it."
Lives Adrift report
Amnesty International's recent 77-page report - "Lives Adrift: Refugees and migrants in peril in the central Mediterranean" - is available
here
.