Israeli forces attack peaceful crowds of Palestinians at al-Aqsa mosque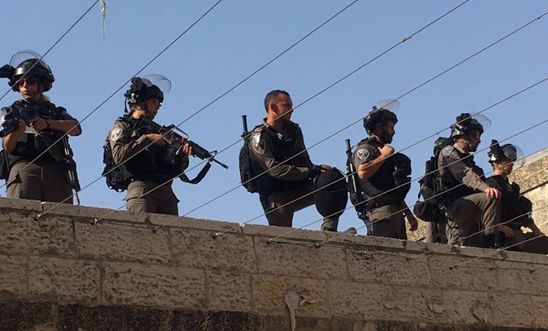 Amnesty staff witnessed Israeli security forces firing into crowds of peaceful Palestinians © Amnesty International
'Israeli forces started firing stun grenades, tear gas and sponge-tipped bullets into a peaceful crowd' - Magdalena Mughrabi
Israeli forces attacked peaceful crowds of Palestinians as they gathered at the al-Aqsa mosque in Jerusalem this afternoon for the first time since Israel lifted recently-imposed security measures at the site, according to Amnesty International staff at the scene. 
The Palestinian Red Crescent Society said at least 96 Palestinians were injured in and around the mosque. 
Magdalena Mughrabi, Amnesty International's Middle East and North Africa Deputy Director, said:
"Israeli forces started firing stun grenades, tear gas and sponge-tipped bullets into a peaceful crowd as they stood at the entrance of the al-Aqsa mosque compound and inside.

"It appeared to be an entirely unprovoked attack. Some Palestinians threw empty water bottles in return. Others, began to throw stones as well.

"Using unnecessary and excessive force to disperse a peaceful gathering is a flagrant violation of Israel's obligation to uphold the rights of Palestinians to peaceful assembly. 

"The Israeli authorities must urgently rein in their security forces to prevent the situation from spiralling out of control and to avoid further bloodshed." 
Since the beginning of disturbances at the al-Aqsa site, four Palestinian civilians have been killed and more than 1,090 injured by Israeli forces during protests and clashes in the West Bank, including Jerusalem.