Ireland: Amnesty in 'Refugees Welcome' partnership with Bohemian FC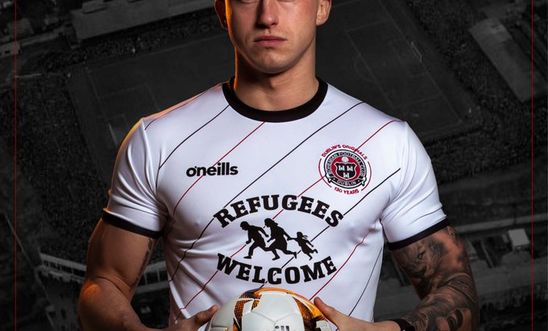 Amnesty Ireland have partnered with Dublin's Bohemian Football Club to call for an end to the country's Direct Provision system.
The League of Ireland Premier Division team's new away shirt highlights the 'Refugees Welcome' campaign, and also features the slogan 'Love Football, Hate Racism' on the collar.
Direct Provision is a system of asylum-seeker accommodation used in Ireland
Direct Provision was designed as a short-term emergency measure, where individuals were expected to spend no longer than six months while their asylum application was processed. It has instead become a system where people are trapped in limbo for years, often in overcrowded conditions, without adequate facilities and support.
Colm O'Gorman, Executive Director of Amnesty International Ireland, said:
"Bohemian FC and their supporters have an incredible track record on social justice issues.

"We've long respected the practical solidarity they've shown people seeking asylum and refugees, so this is a fantastic opportunity to bring our supporters together to call for an end to Direct Provision.

"Direct Provision is an ongoing human rights scandal. The system is fundamentally flawed, trapping people for years in limbo and isolating them from communities in inhumane, institutionalised conditions.

"The Direct Provision system is hurting people, especially vulnerable groups like victims of torture, and children and families. We need a new approach, one that protects people's human rights."
Bohemian FC
Bohemian supporters and members have been building strong links with people living in Direct Provision in recent years to break down the isolation and barriers they face.
They have also been raising funds to bring large groups of people living in Direct Provision to their home games at Dublin's Dalymount Park.
Daniel Lambert, Bohemian FC Director, said:
"Football is a universal language and it can be a vehicle for great good in our society. At the core of the Bohemian identity is inclusiveness and a desire to utilise football as a means to improve our society as a whole.

"We made the decision to allow our shirt to be used as a platform, alongside Amnesty International, to highlight a very real and pressing issue in Ireland today - that of Direct Provision."
Direct Provision
The Direct Provision system was established in 2000 to provide housing, food and other basic necessities to people seeking asylum and international protection in Ireland. Direct Provision centres are mainly hostels, hotels and other accommodation, owned and run by private companies for profit, paid for by the Irish Government.
Amnesty is calling for the Irish Government to end Direct Provision, and urgently develop an alternative that protects human rights. They are also calling for the government to ensure meaningful consultations with people who have lived, or are living in Direct Provision, and the groups that work with them, when creating an alternative approach.