Iraq: warnings of 'bloodbath' in battle for west Mosul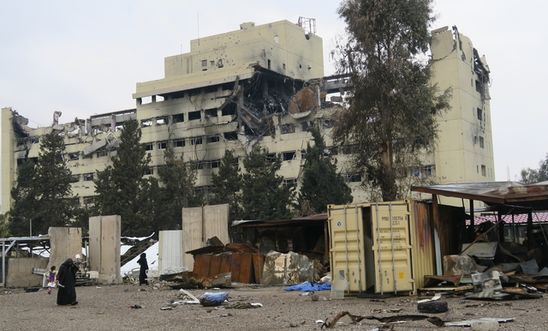 The al-Salam hospital is one of many civilian buildings that have been destroyed in the battle for Mosul © Amnesty International
Reports of ISIS summarily shooting dead dozens of civilians attempting to flee, as food runs out
There are warnings of a "bloodbath" in the expected battle for the densely-populated Old City district of the Iraqi city of Mosul. 
Iraqi and allied US-led anti-ISIS coalition forces are presently encircling the Old City in west Mosul - where an estimated 200,000 civilians remain in a two-kilometre-square area - in preparation for a battle with the Islamic State armed group. On 25 May, anti-ISIS forces dropped leaflets urging civilians to immediately leave areas under ISIS control. 
However, Airwars, Amnesty International, Human Rights Watch, the International Network on Explosive Weapons (see below), and War Child are warning of the difficulty of detecting civilians in the packed city, making it difficult to accurately determine the number of civilians in a target area prior to approving strikes. The dangers are significantly increased by ISIS's use of civilians as "human shields".
The groups' warning comes after rising civilian casualties from aerial operations have already heightened concerns regarding coalition and Iraqi forces use of airstrikes. It's believed that disproportionate military attacks have already used explosive weapons with wide-area effects (such as air-dropped bombs of 500lbs), resulting in civilian casualties and damage to civilian objects. Iraqi forces have also been launching improvised, locally-made rockets into west Mosul. In addition, images published by media outlets and the US military show US and Iraqi forces firing mortars and unguided artillery rockets into western Mosul. Such weapons are inaccurate and can be unlawfully indiscriminate if used in heavily-populated areas.
Anti-ISIS forces are being urged to take all feasible precautions to minimise harm when carrying out attacks, and ensure that civilians can safely evacuate the Old City and get humanitarian assistance both inside and outside the besieged area. 
The situation for trapped civilians is growing increasingly perilous. Those fleeing Mosul have told humanitarian and human rights organisations that markets are being emptied of food, with people subsisting on little more than wheat and rainwater.
Lynn Maalouf, Amnesty International's Middle East Research Director, said:
"Iraqi and coalition forces must take all possible measures to protect civilians, otherwise we risk witnessing a bloodbath in Mosul's Old City.

"ISIS has been forcibly displacing thousands of people into the zones of conflict and using them as human shields."
ISIS using human shields
Dozens of newly-displaced people from west Mosul, including the Old City, have told humanitarian and human rights organisations that ISIS fighters forced them and their families to move with them several times, packing large numbers of families into small neighborhoods still under their control. They witnessed fighters summarily killing dozens of men as punishment as they and their families tried to flee ISIS control. They also saw ISIS fighters fire on groups of civilians as they fled; and some saw fleeing civilians shot and killed.
International Network on Explosive Weapons
The International Network on Explosive Weapons (INEW) is governed by a Steering Committee whose members are: Action on Armed Violence, Article 36, Handicap International, Human Rights Watch, Norwegian People's Aid, Oxfam, PAX, Save the Children and the Women's International League for Peace and Freedom.