Iraq: UN Security Council's new ISIS resolution could lead to 'victor's justice'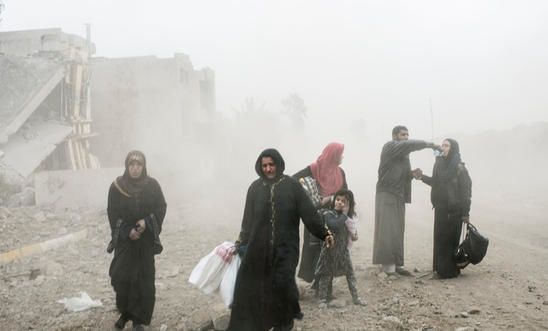 The battle for West Mosul was 'catastrophic' for civilians, according to Amnesty's findings © Amnesty International
The UK had championed the resolution which ignores possible war crimes committed by Iraqi and coalition forces
'This flawed resolution sends a dangerous message' - Sherine Tadros
The United Nations Security Council resolution passed today aimed at holding the Islamic State armed group accountable for war crimes and human rights abuses in Iraq falls short of what is needed and could fuel further abuses, warned Amnesty International. 
The unanimously-adopted resolution, tabled by the UK, establishes an "Investigative Team" of experts to support the Iraqi government in collecting, preserving and analysing evidence of serious crimes.
The "Investigative Team", to be headed by a UN special advisor, will gather and preserve evidence of war crimes, crimes against humanity and genocide committed by IS members in Iraq. 
However, the resolution fails to include any provisions to ensure accountability for crimes committed by Iraqi forces and others responsible for grave violations of international law, including war crimes, during the conflict. In a report on the final battle for the city of Mosul in July, Amnesty showed how Iraqi and anti-ISIS coalition forces - include British forces - had failed to take adequate measures to protect civilians, instead subjecting them to a terrifying barrage of fire from weapons that should not have been used in densely-populated civilian areas. 
Amnesty researchers interviewed 151 west Mosul residents, experts and analysts, and documented 45 attacks in total, which killed at least 426 civilians and injured more than 100, providing analysis for nine specific attacks by Iraqi forces and the US-led coalition. It was clear that Iraqi and coalition forces failed to adapt their tactics even after ISIS had driven civilians into areas affected by fighting. 
The report also showed how ISIS fighters used civilians as human shields, forcing them from neighbouring villages into battle zones in west Mosul, while also trapping them in their homes to prevent them from escaping.
Sherine Tadros, Head of Amnesty International UN Office in New York, said:
"Initiatives that can help ensure justice for victims of atrocities by ISIS members in Iraq are of course welcome news. But, this flawed resolution sends a dangerous message to all the other parties to the conflict who have also committed serious violations and crimes that they are above justice. 

"This resolution will deny that right to many victims and threatens to entrench a dangerous culture of 'victor's justice', which will only serve to fuel further abuses. We therefore strongly urge the UNSC to treat this resolution as a first step on the road to justice and accountability for the victims of crimes and violations carried out by all parties to the conflict in Iraq."