Iraq: one year on from start of battle for Mosul, 'catastrophe' for civilians still not recognised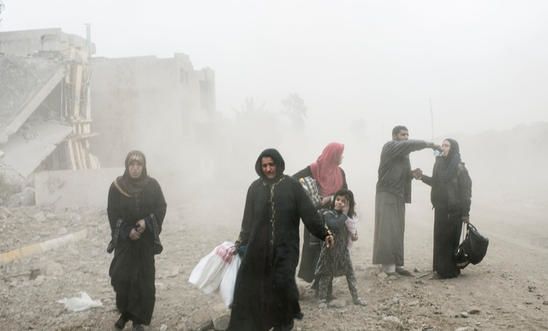 Thousands of civilians in Mosul are believed to have been killed or injured © Amnesty International
Many civilians still buried under the rubble
UK military should release precise information about its attacks
Marking the one-year point today since Iraqi forces and a US-led military coalition launched an offensive to retake the Iraqi city of Mosul from Islamic State armed group, Amnesty International's Middle East Director of Campaigns, Samah Hadid said:
"The battle for Mosul has had catastrophic consequences for the city's residents.

"Entire families were killed during the fighting, with many still buried under the rubble to this day. 

"Warring parties placed little value upon civilian lives. Many of those lucky enough to escape are now living in unbearable conditions inside makeshift camps with an uncertain future. 

"The international community must not forget about the people of Mosul. Funding for humanitarian assistance is urgently needed to help more than 800,000 people now living in tents without proper access to healthcare, food and water. 

"Many of the displaced are also now living in fear. Enforced disappearances carried out by pro-government forces are on the rise, along with rushed and unfair trials, followed by executions carried out on the basis of 'confessions' extracted under torture. We urge the Iraqi authorities to ensure all trials adhere to international standards without resorting to the death penalty. 

"It is also important that the Iraqi government and the US-led coalition acknowledge the grave loss of civilian life caused by the Mosul operation, as well as their role in it. They must ensure that reported violations are impartially investigated and those responsible are held accountable. The people of Mosul deserve to know that there will be justice and reparation for victims and their families. And the world needs to see that the lessons of the battle of Mosul are being learned so that civilians caught up in other battles are spared such catastrophic consequences." 
The civilian catastrophe in West Mosul
In July, Amnesty's published a detailed analysis of hostilities in west Mosul from January to mid-May, showing how ISIS fighters had used civilians as human shields, forcing them from neighbouring villages into battle zones in west Mosul, while also trapping them in their homes to prevent them from escaping.
Amnesty's report also showed how Iraqi and coalition forces - including British forces - had failed to take adequate measures to protect civilians, instead subjecting them to a terrifying barrage of fire from weapons that should not have been used in densely-populated civilian areas. Amnesty's findings showed how Iraqi and coalition forces failed to adapt their tactics even after ISIS had driven civilians into areas affected by fighting, making west Mosul more and more crowded with civilians as the battle raged on. Instead, Iraqi and coalition forces continued to use imprecise weapons with wide-area effects in densely-populated urban environments. 
UK military's criticism of Amnesty's findings  
UK politicians and members of the UK military have criticised Amnesty's findings on the battle for Mosul. The coalition's deputy commander, the British army general Rupert Jones, has called Amnesty's report "disrespectful" toward the Iraqi security forces and claimed that Amnesty researchers "have no understanding of the brutality of warfare". In fact, Amnesty researchers interviewed 151 west Mosul residents, experts and analysts, and documented 45 attacks in total, which killed at least 426 civilians and injured more than 100, providing analysis for nine specific attacks by Iraqi forces and the US-led coalition. 
Amnesty is calling for an independent investigation into civilian deaths and injuries in the Mosul operation, and is urging the UK military authorities to release information about the location and timing of its attacks and the weapons used to back up its claims that UK forces went to "the greatest lengths" not to kill civilians in Mosul.