Iraq: new evidence of Islamic State's ethnic cleansing of minorities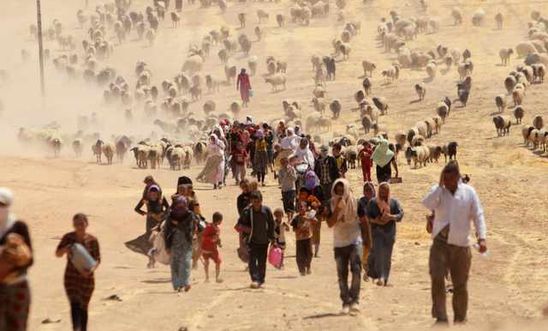 Displaced people from minority Yezidi sect, fleeing violence from the Islamic State © REUTERS/Rodi Said
'They lay in agony waiting to die. They died a horrible death' - survivor of massacre at Kocho village
Vulnerable communities 'risk being wiped off the map of Iraq'
Fresh evidence uncovered by Amnesty International shows that the Islamic State armed group has launched a systematic campaign of ethnic cleansing in northern Iraq, carrying out war crimes - including mass summary killings and abductions - against ethnic and religious minorities. 
A new 24-page briefing - Ethnic cleansing on historic scale: the Islamic State's systematic targeting of minorities in northern Iraq - published today (2 September), includes a series of terrifying accounts from survivors of massacres who describe how dozens of men and boys in the Sinjar area were rounded up by Islamic State fighters, bundled into pick-up trucks and taken to the outskirts of villages to be massacred in groups or shot individually. Hundreds - possibly thousands - of women and children, along with scores of men, from the Yezidi minority have also been abducted since the Islamic State took control of the area. 
Amnesty interviewed hundreds of witnesses and survivors, gathering evidence showing that several mass killings took place in Sinjar in August. Two of the deadliest incidents occurred when Islamic State fighters raided the villages of Qiniyeh on 3 August and Kocho on 15 August, with the number of those killed in these two villages alone running into the hundreds.
Islamic State systematically divided the villages' men and boys (as young as 12) from the women and younger children, taking the men and boys in pick-up trucks to the outskirts of the villages and shooting them dead. Many victims were forced to squat at the edge of large holes in the ground and shot into them. A handful of survivors escaped death by sheer chance, either sustaining non-fatal gunshot wounds or falling into the death pits unharmed.
One of the survivors of the Kocho massacre - Khider, a 17-year-old student - told Amnesty what happened:
 

"My cousin Ghaleb Elias and I were pushed into the same vehicle. We were next to each other as they lined us up face down on the ground. He was killed. He was the same age as me, and worked as a day labourer, mostly in construction. I have no news of what happened to my parents and my four brothers and six sisters. Did they kill them? Did they abduct them? I don't know anything about them. After the IS armed men shot us I ran away, stopping to hide when I thought someone might see me or when I could not walk any more. I had to walk many hours to reach Mount Sinjar."
One of the survivors of the Qiniyeh killings - Fawas Safel 'Ammo - described the scene:
 

"They marched us men and boys towards the mountain, about 15 minutes' walk away. We stopped at a place where there was a big hole, by the wadi (valley); we were on the edge of the hole. They opened fire and some tried to run away. I let myself fall in the hole, and others fell on top of me. I stayed still. After the continuous fire stopped, IS militants fired individual shots, at those they saw were not yet dead. After they left - I don't know how much time passed exactly - I got up and so did my friend Ezzedin Amin and we ran away. Neither of us were injured. We walked to the mountain and there we found three others who had also escaped alive from the massacre; they were injured, one very lightly and two more seriously."
Fatwas Safel 'Ammo gave Amnesty a list of 28 men from his family who are missing since the massacre, all believed killed. Another survivor, Salem, who managed to hide near the Kocho massacre site, described to Amnesty the horror of hearing others who had been injured crying out in pain:
 

"Some could not move and could not save themselves; they lay there in agony waiting to die. They died a horrible death. I managed to drag myself away and was saved by a Muslim neighbour; he risked his life to save me ... For 12 days he brought me food and water every night. I could not walk and had no hope of getting away and it was becoming increasingly dangerous for him to continue to keep me there."
Salem was later able to escape by donkey and rode to the mountains and then on into the areas controlled by the Kurdistan Regional Government.
The mass killings and abductions have succeeded in terrorising the entire population in northern Iraq, leading thousands to flee in fear for their lives. The fate of many of the hundreds - possibly thousands - of Yezidis abducted and held captive by the Islamic State remains unknown, though several hundred women and children who were abducted from Kocho on 15 August are currently held in Tal Afar - halfway between Sinjar and Mosul - where militants are holding other Yezidi captives. 
Many of those held have been threatened with rape or sexual assault, or threatened with death if they refuse to convert to Islam. In some cases entire families have been abducted. One man who gave Amnesty a list of 45 names of missing relatives, all of whom are women and children, said: "We get news from some of them but others are missing and we don't know if they are alive or dead or what has happened to them." 
Amnesty's briefing described the forced displacement of Iraq's ethnic and religious minorities, including some of the region's oldest communities, as a "tragedy of historic proportions", and Amnesty fears that vulnerable communities "risk being wiped off the map of Iraq".
Donatella Rovera, Amnesty International's Senior Crisis Response Adviser currently in northern in Iraq, said: 
"The Islamic State is carrying out despicable crimes and has transformed rural areas of Sinjar into blood-soaked killing fields in its brutal campaign to obliterate all trace of non- Arabs and non-Sunni Muslims.

 

"The massacres and abductions being carried out by the Islamic State provide harrowing new evidence that a wave of ethnic cleansing against minorities is sweeping across northern Iraq.

 

"The people of northern Iraq deserve to live free from persecution without fearing for their lives at every turn. Those ordering, carrying out, or assisting in these war crimes must be apprehended and brought to justice." 
Since taking control of Mosul on 10 June, Islamic State militants have also systematically destroyed and damaged places of worship belonging to non-Sunni Muslim communities, including several notable Shi'a mosques and shrines. 
Minorities targeted
Among the ethnic and religious minorities being targeted in northern Iraq are: Assyrian Christians, Turkmen Shi'a, Shabak Shi'a, members of the Yezidi faith, Kakai and Sabean Mandaeans. Meanwhile, many Arabs and Sunni Muslims known or believed to oppose the Islamic State have also been targeted in apparent reprisal attacks.