Iraq: Kurdistan must end 'shocking' two-year-long detention of Yezidi mother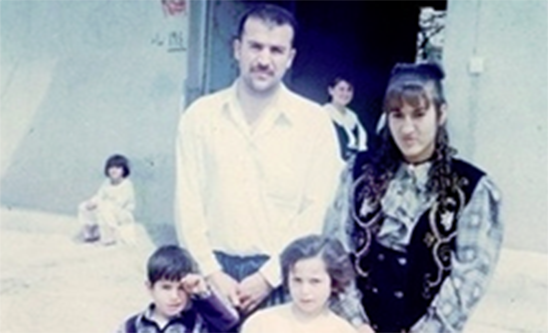 Bassema Darwish pictured with her brother Jassim.  © Darwish family
34-year-old Bassema Darwish has already survived capture by Islamic State
Iraq's Kurdistan Regional Government must immediately end the shocking and arbitrary detention of a Yezidi woman held without trial for nearly two years after surviving captivity at the hands of the Islamic State armed group, said Amnesty International.
Bassema Darwish, a 34-year-old mother of three from Babira village in Ninewa Governorate, has been detained by the Kurdistan authorities since October 2014, having been accused of complicity with ISIS forces who killed three members of the Peshmerga (Kurdistan armed forces) when they arrived at the house where Darwish was being held captive in Zummar in north-west Iraq.
Darwish is currently detained at Erbil's Women and Juvenile Prison, having given birth to her daughter Nour Hussein while in custody.
Relatives, activists and officials told Amnesty that Darwish was abducted by ISIS fighters, along with her husband and 33 other relatives, on 3 August 2014 as they tried to flee the city of Sinjar, which was under ISIS attack. She was pregnant at the time. The abductees were initially moved to the city of Tal 'Afar, where women and children, including Darwish, were separated from men. The fate of 31 of her relatives remains unknown.
Amnesty has raised Darwish's case with the authorities on multiple occasions to no avail, most recently in a letter to the Kurdistan president Masoud Barzani on 26 August.
Meanwhile, the head of investigations at the Kurdistan Anti-Terrorism Directorate, who met Amnesty in person last month, said that when Peshmerga forces arrived at the site where Darwish was being held captive in Zummar, she deceived them by saying the house was empty. He claimed ISIS fighters hidden inside then killed three members of the Peshmerga as they entered the house. He claimed that Darwish had been "radicalised", had deliberately tricked Peshmerga forces, and was responsible for their deaths. He said that she is being held under the anti-terrorism law and that her case has been referred to court, but a hearing has yet to be scheduled.
Relatives of Bassema Darwish told Amnesty she appeared in court in August at least once without a lawyer and was forced to sign four papers written in Kurdish without understanding their content.
In August the Anti-Terrorism Directorate denied Amnesty's request to see Darwish in prison, while lawyers have also been denied access. Amy Beam, the founder of the Amy, Azadi and Jiyan humanitarian NGO, told Amnesty she that she's been threatened by the Asayish (Kurdistan's security agency) over her efforts to secure Darwish's release.
Amnesty International's Middle East and North Africa Director Philip Luther said:
"It is shocking that the Kurdistan Regional Government, which has consistently condemned ISIS atrocities against the Yezidi community, is holding a survivor of these abuses on terrorism charges and denying her basic legal rights.

 

"Yezidi women abducted by ISIS have suffered truly harrowing abuses including rape and sexual slavery.

 

"Bassema Darwish should be granted unhindered access to her relatives, lawyers and independent international monitors. Her right to a fair trial, including the right to challenge the lawfulness of her detention, to be informed of the charges against her in a language she understands, and to adequate legal defence, should be fully upheld.

 

"Holding her indefinitely without trial or even a proper chance to challenge the lawfulness of her detention is cruel and unlawful. The authorities must either charge her with a recognisable criminal offence or release her immediately."
Amnesty is also calling on the KRG to release Darwish from custody until an ordinary, civilian court rules on the merits of any accusation against her, given her background, vulnerability and child-care responsibilities.
ISIS crimes
ISIS fighters have committed multiple and systematic crimes under international law including war crimes and crimes against humanity. Yezidi women and girls have been held as sexual slaves, raped, tortured and murdered. Some have been forced to witness the killings of their male relatives, forcibly separated from their children or forced to convert to Islam.
Amnesty has published a
briefing
- Escape from hell: Torture, sexual slavery in Islamic State captivity in Iraq - on the wave of ISIS mass abductions of Yezidis in Iraq in 2014, detailing ISIS fighters' rape and other acts of sexual violence against Yezidi women and girls.