Iraq: Kurdish homes targeted in wave of attacks by government-backed militias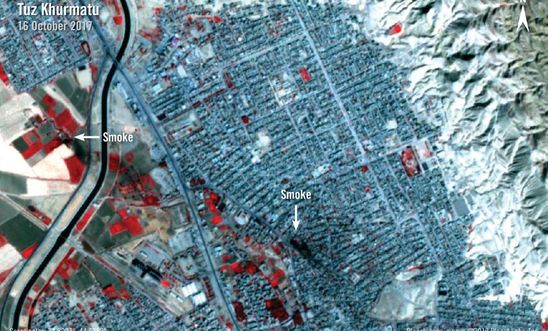 Satellite imaging captures some of the after-effects of the wave of arson attacks © Planet Labs Inc, 2017
Satellite imagery, videos and dozens of testimonies from city of Tuz Khurmatu reveal how Kurdish neighbourhoods targeted in resurgence of ethnic conflict
At least 11 civilians killed, homes looted and burnt down, and tens of thousands forced out and afraid to go back
'I want you to know that for us as Kurds, we can't go back to Tuz Khurmatu' - one displaced resident
'Within hours the lives of countless men, women and children were devastated in Tuz Khurmatu' - Lynn Maalouf
Satellite images, videos, photos and dozens of testimonies collected by Amnesty International show that thousands of civilians were forced to flee their homes after fierce clashes erupted between Iraqi government forces, supported by the Popular Mobilisation Units (PMUs), and Kurdish Peshmerga forces in Iraq's multi-ethnic city of Tuz Khurmatu south of Kirkuk last week. 
Residents of Tuz Khurmatu, a 100,000-strong city of Kurds, Turkmen and Arabs which was until 16 October under the control of Kurdistan Regional Government forces, reported that at least 11 civilians were killed by indiscriminate attacks, while hundreds of properties were looted, set on fire and destroyed in what appears to be a targeted attack on predominantly Kurdish areas of the city. 
Residents told Amnesty that heavy clashes broke out after midnight on 16 October, with many civilians fleeing between 2am and 6am. The UN's Assistance Mission for Iraq told Amnesty that in total nearly 35,000 civilians have fled Tuz Khurmatu since 16 October. 
Between 18 and 23 October, Amnesty interviewed 42 displaced Tuz Khurmatu residents, conducted analysis of satellite imagery of the city and analysed and authenticated photos and videos provided by residents showing damage to homes and other civilian property caused by arson and looting. Residents who are still in the city, as well as others who fled and then attempted to return, have described how Iraqi government forces, as well as members of the PMUs, Turkmen fighters and Turkmen civilians, engaged in rampant arson, looting and demolition of civilian homes. Witnesses also reported receiving threatening messages or phone calls from their Turkmen neighbours, and those who returned briefly to the city reported seeing extensive damage to homes in al-Jumhuriya and Hai Jamila, both Kurdish-majority districts.
Residents also spoke of the history of clashes and revenge attacks between Kurdish and Shi'a Turkmen residents of Tuz Khurmatu. In a chilling example of the tension between the two groups, "Sherine" a resident of al-Jumhuriya neighbourhood (see TESTIMONIES below) told Amnesty that on 15 October her Turkmen neighbour saw her buying plates and pots in the market. She told her: "Keep buying. I want Kurds to buy things, because in the end it will be left behind for me."
Lynn Maalouf, Amnesty International's Middle East Research Director, said:
"Within hours the lives of countless men, women and children were devastated in Tuz Khurmatu. Thousands have lost their homes, shops and everything they owned. They are now scattered in nearby camps, villages and cities, wondering whether they will ever be able to return.

"The Iraqi authorities already stated they would not tolerate any attacks against civilians, and would hold perpetrators accountable. They must now put word to action, and promptly initiate impartial investigations into these violations. Victims must receive full reparation and those responsible held to account."
TESTIMONIES
Indiscriminate attacks
Tuz Khurmatu residents reported that the weapons used in the densely-populated city included mortars, RPGs, Soviet-made DShk heavy machine guns and Kalashnikov assault rifles. Civilians interviewed by Amnesty were unable to determine whether the attacks they experienced were attributable to Kurdish or Iraqi government forces; however, in several of the cases documented by Amnesty, the indiscriminate fire was launched into crowds of Kurdish residents fleeing the city. 
"Soran" (this, as with all names used in these testimonies, is not his real name), an 18-year-old man from Hai Jamila, told Amnesty:
"A mortar fell near my house, and because of that, we fled. I was with my family. We are six people - my mother, father, my brother, two sisters and me. I saw at least a thousand people fleeing with us - it looked like a sea of people. We had to get through the irrigation project to get out. There are all of these ditches and small ponds we had to get through. The mortars were falling around us, and snipers were shooting at us. Some of the elderly people were left behind. Others were carried in blankets - we had to carry them so they didn't fall in the water. I saw one man who was hit in the leg by a sniper's bullet. He fell down, and I don't know what happened to him. Another man was shot in the head and died instantly, in front of me." 
Soran told Amnesty that there were no military installations near his house and that the crowd fleeing was made up solely of civilians. 
Another resident, Sherine, said: 
"One [mortar] fell very close to our front door. It was about 2am and very dark. The children started screaming and I screamed too. I didn't take anything. I'm still wearing the same dress as I wore that night. It's so filthy, but what can I do? I don't know how I managed to get the children into the car. Everyone was on the street. People were running and in their cars. It was so dusty. The mortars kept coming. We heard the Peshmerga were running away, and that really frightened us. We drove into the emptiness and didn't stop until Qala Dawoodi [a village seven miles from Tuz Khurmatu]. We slept outdoors until dawn." 
Sherine told Amnesty that there are no military installations near her house.
Jamil also fled Tuz Khurmatu with his family at around 3.30am on 16 October. He said:
"We left on a tractor. It was all we had. We had to go out by a route that goes by the mountains and the irrigation system. It was really difficult - there were bullets whizzing by our head and mortars flying around us. We were so scared. I was with my wife and four children. When we left, I thought to myself: I will definitely lose my house to the burning and the looting, so now I need to take care of my family." 
Jamil also told Amnesty that there were no fighters nearby during his flight outside the city. 
Of the 42 civilians interviewed by Amnesty who fled the city and are now sheltering in nearby villages, camps and cities, none felt safe enough to return to Tuz Khurmatu. Amnesty spoke with four residents who had returned briefly to check on their homes or shops, but all had returned within hours, citing concerns for their safety. Tuz Khurmatu residents who had fled the city also reported that none of their Kurdish neighbours have returned to the city permanently after 16 October or had any plans to do so. 
Abbas told Amnesty: 
"I want you to know that for us as Kurds, we can't go back to Tuz Khurmatu … At any moment they can come in a car and pick me up, for any reason … If I need to get a national ID or get some official documents, I would have to go to the intelligence. If I go there, I might never come back …They could kill me, or hold me hostage. We are afraid. And we are sure this is what will happen." 
Arson and looting
Sarhang, who stayed in al-Jumhuriya neighbourhood until 6pm on 16 October, said: 
"More than 100 people on motorcycles were riding around the neighbourhood … They knew the houses [and entered them] one by one. They took anything valuable or worth something. Then they set fire to a blanket and threw it into the house. The fire is [then] lit, and the whole house catches fire. They leave it to burn. I saw trucks and lorries [driven by] the PMU and Turkmen. The Turkmen are PMU anyway. They would take kitchen counters, fridges, stoves - whatever they can."
 
Sangar returned briefly to the city to check on his house. He told Amnesty: 
"I was creeping through the city, trying to avoid seeing anyone …The market in al-Jumhuria was completely burned out. And I saw some houses that had been exploded. They were completely collapsed. My house was burned, too … It looked like 90% of the buildings in al-Jumhuirya were burned." 
Hameed, a 68-year-old man, told Amnesty that on 19 October he travelled from Zinana, the village to which he had fled on 16 October, to Tuz Khurmatu to check on his house, which is located near Sitar Mosque in al-Jumhuriya neighbourhood. He described what he saw: 
"When I got to my house, I saw that the door was broken, and the TV and the refrigerator were burned … When I went in, I realised my house was still on fire … We went to my son's room, and it was like a pressure cooker inside. I fell over from the shock of the heat, and I almost fainted. My house was beautiful - it had two storeys. I loved that house. I kept trying to put out the fire, but finally my nephew said, 'Uncle, we have to go - it's not safe for us here'."