Iraq: ISIS abduct border guards from Yezidi minority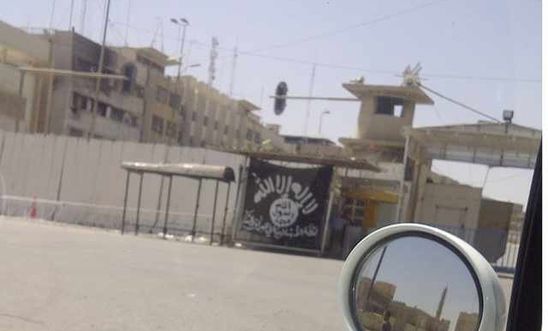 ISIS flag on display in Mosul recently © Amnesty International
'A clear pattern is emerging whereby ISIS is deliberately targeting Iraq's minorities as well as others suspected of opposing the group' - Donatella Rovera
The Islamic State in Iraq and al-Sham (ISIS) in Iraq has been stepping up sectarian attacks on minority groups in northern Iraq, with the abduction of a group of border guards and soldiers from the Yezidi minority community being one of the latest examples.
At least 24 Yezidi border guards and soldiers were captured by ISIS last month in north- western Iraq. Some were later released, but the rest are being held by ISIS across the border in north-eastern Syria. 
The Yezidi are a Kurdish ethno-religious group, present in various parts of northern Iraq, and the captives are among scores of minorities to have been targeted in a spree of sectarian detentions and abductions carried out by ISIS in recent weeks. In a video issued by the group on Sunday, the men are referred to as "devil worshippers." 
Amnesty International has spoken to recently-released Yezidi detainees, as well as to family members of those still held by ISIS. The parents of one of the missing men spoke of their deep concern, saying: "We are simple people who have always lived in harmony with our Muslim brothers and neighbours. We appeal to the humanity of those who are holding our son to let him come to his children."
Amnesty has documented a string of abductions carried out by ISIS targeting minority communities in Iraq - including Turkmen, Shabak Shi'a, and Christians - while Sunni Muslims suspected of opposing ISIS have also been targeted. Some of those abducted in recent days have since been found dead. 
Yesterday Amnesty met a 16-year-old boy and a young man, both members of one of Iraq's minorities, who had been released the previous day. They had spent ten days in ISIS custody in Mosul and said that they were not subjected to ill-treatment but were pressured into converting to Islam.   
Donatella Rovera, Amnesty International's Senior Crisis Response Adviser who is currently in northern Iraq, said:
"A clear pattern is emerging whereby ISIS is deliberately targeting Iraq's minorities as well as others suspected of opposing the group, singling them out for detention and abduction.

"Every day I meet families desperate to find their sons, husbands and brothers who have been taken by ISIS groups and whose fate and whereabouts are unknown.  Most do not want the names of their missing relatives mentioned because they fear for their safety.

"Killing detainees in custody is a war crime. ISIS fighters have in the past displayed an appalling disregard for basic humanity. Anyone who is detained must be treated humanely."
Iraqi government killings
ISIS is not the only group responsible for killing captives in sectarian attacks. Amnesty has documented the mass extrajudicial execution of Sunni detainees by Iraqi government forces and Shia militias in recent weeks.
Donatella Rovera added:
"The conflict in Iraq is rapidly descending into a vengeful and aggressive battle for survival amid mounting sectarian attacks, with parties on all sides unlawfully killing members of other communities."
Amnesty is calling on all parties to the conflict to treat detainees humanely at all times and to make clear to all those under their command that the killing of captives, torture, hostage-taking and other war crimes will not be tolerated.