Iraq: civilians must be protected after fall of Mosul and Tikrit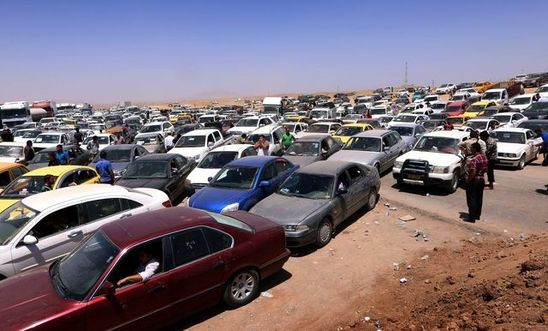 Iraqis fleeing violence in and around Mosul yesterday © AFP/Getty Images
Fall of Mosul and Tikrit come after carnage in Anbar 
Civilians in the Iraqi cities of Mosul and Tikrit must be protected at all costs and allowed to safely leave the conflict zone, Amnesty International said after an estimated half a million people were forced to flee their homes in the Mosul area yesterday because of the violence. 
Mosul is the second city to fall to ISIS armed groups in the last six months after Iraqi security forces were forced out of Fallujah in Anbar governorate in January, and reports have also emerged today that ISIS forces have now taken control of a third city - Tikrit, 95 miles north of Baghdad. 
Amnesty International's Middle East and North Africa Deputy Director Said Boumedouha said:
"Both sides in the conflict must ensure that civilians do not bear the brunt of the violence as they battle for control.

 

"ISIS armed groups and the Iraqi security forces must avoid repeating the violence against civilians that took place in Fallujah and they should not block the way of those civilians seeking to flee the area.

 

"The Kurdistan Regional Government and neighbouring countries must provide civilians fleeing the conflict with refuge. 

 

"The international community must also provide support towards the humanitarian needs of people displaced as a result of the violence." 
Anbar as worrying precedent?
Fighting in Anbar since January has reportedly displaced hundreds of thousands of people and caused 5,520 civilian deaths. In the past six months, government forces have used indiscriminate shelling in Fallujah, including on hospitals and in residential areas. Meanwhile, ISIS have claimed responsibility for a number of car bomb blasts in other parts of Iraq as retaliation for the government attacks.