Iraq: Associated Press figures on Mosul deaths are horrifying but not surprising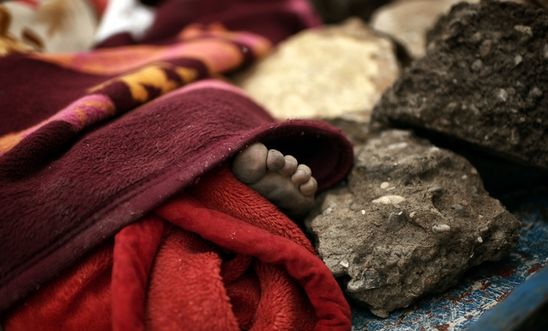 Body of an Iraqi child killed in an airstrike on Mosul targeting ISIS © AFP/Getty Images
AP investigation puts civilian death toll at between 9,000 and 11,000 - with Iraqi and Coalition share ten times higher than earlier estimates
'The failure of Iraqi and coalition forces to acknowledge and investigate civilian deaths in Mosul is a blatant abdication of responsibility' - Lynn Maalouf
Responding to an investigation from the Associated Press news agency showing that between 9,000 and 11,000 civilians were killed in the battle for Mosul earlier this year, Lynn Maalouf, Amnesty International's Head of Middle East Research, said:
"We are horrified, but not surprised, by these new figures. 

"These numbers are directly in line with our previous findings that thousands of civilians were killed during the battle for Mosul - and that these deaths were caused not only by the so-called Islamic State group, but also by Iraqi and coalition forces.

"The AP's estimate is more than ten times the figures reported by coalition forces, who have claimed responsibility for only 326 deaths. 

"The failure of Iraqi and coalition forces to acknowledge and investigate civilian deaths in Mosul is a blatant abdication of responsibility. 

"We are demanding transparency and an honest public account of the true cost to civilians from this war, as well as an immediate investigation by US-led coalition and Iraqi forces into the violations and unlawful attacks documented by Amnesty International and other independent groups during the battle for Mosul."
Ten times higher
According to the Associated Press investigation, which cross-referenced information from various NGOs (including Amnesty), Iraqi or coalition forces were responsible for at least 3,200 civilian deaths from airstrikes, artillery fire or mortar rounds between October 2016 and the fall of ISIS in Mosul in July. Many of these newly-reported deaths were a direct result of civilians being killed or crushed under buildings damaged in attacks by the coalition and Iraqi government forces that were disproportionate or otherwise indiscriminate. 
'Catastrophic' for civilians
In July, Amnesty reported on the "catastrophic" impact for civilians of the fighting in Mosul. In a 50-page report, Amnesty showed how ISIS forces used civilians as human shields, forcing them from neighbouring villages into battle zones in west Mosul, while also trapping them in their homes to prevent them from escaping. Amnesty's report also showed how Iraqi and coalition forces - including British forces - failed to take adequate measures to protect civilians, instead subjecting them to a terrifying barrage of fire from weapons that should not have been used in densely-populated civilian areas. Furthermore, Amnesty's report shows how Iraqi and coalition forces failed to adapt their tactics even after ISIS had driven civilians into areas affected by fighting, making west Mosul more and more crowded with civilians as the battle raged on. Instead, Iraqi and coalition forces continued to use imprecise weapons with wide-area effects in densely-populated urban environments.