Iran/UK: return of Kamal Foroughi after unjust detention is 'marvellous news'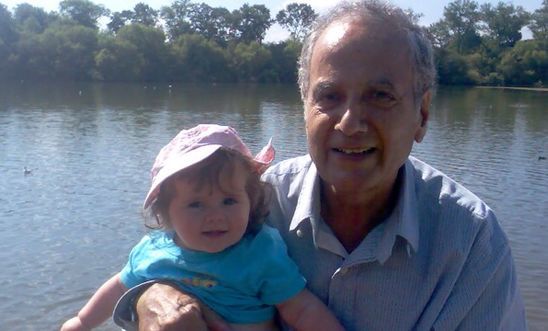 Kamal Foroughi with his grandaughter © Private
British former businessman originally arrested in Iran in 2011
His long detention is part of a pattern of targeting dual-nationals
'We now hope, of course, that other Britons like Nazanin Zaghari-Ratcliffe are similarly released from their unjust prison sentences' - Kate Allen
Responding to news from the son of the British national Kamal Foroughi that the former businessman has returned to the UK following a long period of detention in Iran, Kate Allen, Amnesty International UK's Director, said: 
"It's long, long overdue but this is marvellous news.
 
"We're delighted for Kamal and his son Kamran, who has fought a long and incredibly difficult campaign to get his father out of jail and safely back to the UK.
 
"Like so many other people in Iran, not least several dual-nationals, Mr Foroughi had a blatantly unfair trial and should never have been in jail at all, never mind for all those years.
 
"We extend our best wishes to the Foroughi family and we now hope, of course, that other Britons like Nazanin Zaghari-Ratcliffe are similarly released from their unjust prison sentences in Iran and allowed to reunite with their families here in the UK." 
Former businessman arrested in 2011
Kamal Foroughi, 80, a former consultant with the oil and gas company Petronas, was arrested while visiting the country by plain-clothed security officials on 5 May 2011. He wasn't told the reason for his arrest or shown an arrest warrant. He was held - mostly in solitary confinement - without access to a lawyer until the day before a court hearing nearly two years later.
 
In early 2013, Mr Foroughi was sentenced to seven years in jail after being convicted of "espionage" following an unfair trial. Foroughi has been serving this sentence in Tehran's notorious Evin Prison. Under Iranian law (Article 58 of the Islamic Penal Code), Foroughi was eligible for early release for several years after serving more than a third of his prison sentence, though he continued to be held without official explanation. For many years, he received no family or humanitarian visitors while in jail.
 
According to a statement today from Kamran Foroughi on the change.org website, Mr Foroughi returned to the UK two weeks ago. He had been out of prison and living with friends in the country for more than a year, before his Iranian passport was renewed and he was allowed to travel back to the UK after further delays because of the coronavirus crisis. 
Other dual-nationals
Mr Foroughi's treatment appears to be part of a wider pattern whereby the Iranian authorities have brought spurious national security-related charges against dual-nationals and other individuals with foreign connections. High-profile cases include the UK-Iranian national Nazanin Zaghari-Ratcliffe - as well as earlier cases such as the US-Iranian Washington Post journalist Jason Rezaian, and the Canadian-Iranian academic Dr Homa Hoodfar.
Human rights crackdown
In recent years, the human rights situation in Iran has deteriorated severely. The authorities have suppressed free expression and imprisoned those voicing dissent. Amnesty is gravely concerned that the Iranian authorities are intensifying their crackdown against human rights defenders, who have already been working under suffocating levels of repression. The intensification of the crackdown is illustrated most shockingly by the harsh prison sentences given to human rights defenders in connection with their human rights work. For more on the wider human rights situation in Iran, go here.