Iranian authorities broadcast lurid 'confession' videos ahead of executions - new report
Stage-managed videos with titles like 'In the Devil's hands' followed long periods of solitary confinement and alleged torture 
'I practised for almost two hours a day until I had the information completely memorised' - testimony smuggled out of jail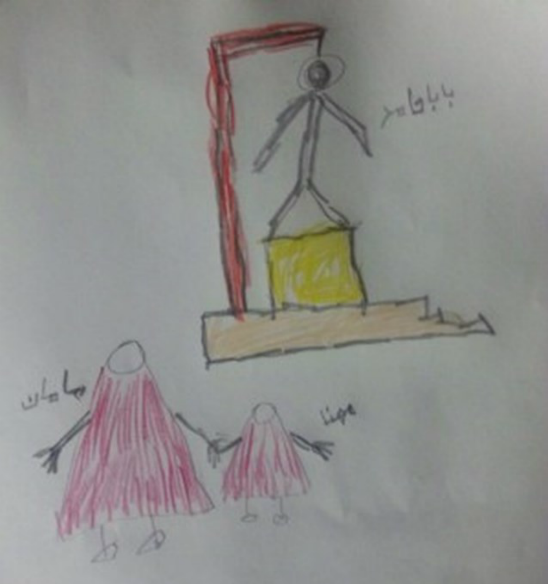 The Iranian authorities have broadcast "chilling" propaganda videos to dehumanise death penalty victims in the eyes of the public and divert attention away from deeply-flawed trials that led to their death sentences, said Amnesty International in a new report published today.
Amnesty's 35-page report -  
Broadcasting injustice, boasting of mass killing
- shows how the Iranian authorities have embarked on a media campaign following the mass execution on 2 August of 25 Sunni men accused of involvement in an armed group, flooding state-controlled media outlets with numerous videos featuring forced "confessions".
The stage-managed videos - with sensationalist headlines like "In the Devil's hands" and "In the depth of darkness", melodramatic backing music, and in some cases with scenes interposed with film trailer-style captions such as "to be continued" or "coming soon" - were produced and broadcast by different state-associated media outlets, including Islamic Republic of Iran Broadcasting (IRIB), Press TV and an organisation called Habilian Association. 
In the videos the men repeatedly call themselves "terrorists" who deserve their punishment. They "confess" to being involved with a group called Towhid va Jahad, which they say carried out armed attacks and plotted killings of "disbelievers". In some videos they compare themselves to the Islamic State armed group, warning "we would have committed atrocities worse than IS if we had not been stopped". These videos are interspersed with clips showing ISIS atrocities carried out in Syria and Iraq.
The supposed confessions were allegedly the result of sustained period of torture, solitary confinement (see below). Meanwhile, several clear inconsistencies in the videos indicate that the "confessions" themselves are likely to have been scripted. In some cases, the men are linked to crimes that occurred months after they had been arrested or the nature of their involvement in the crimes attributed to them changes massively from one video to another. 
The "confession" videos illustrate how far Iran's intelligence and security forces have violated the men's right to the presumption of innocence as well as the right not to be forced into incriminating themselves. Amnesty is pointing out that any state-controlled bodies involved in the production of the "confession" videos share responsibility for the human rights violations committed against the men.
Iran has one of the highest execution rates of any country in the world and, as of 26 October, there have been at least 457 executions in Iran so far this year - though Amnesty cautioned that the real figure is likely to be even higher than this.
Philip Luther, Amnesty International's Middle East and North Africa Research and Advocacy Director, said:
"By parading death row prisoners on national TV, the authorities are blatantly attempting to convince the public of their 'guilt', but they cannot mask the disturbing truth that the executed men were convicted of vague and broadly-defined offences and sentenced to death after grossly unfair trials.

 

"The Iranian authorities must immediately stop producing and broadcasting 'confessions' extracted through torture and other ill-treatment. They must also lift the veil of secrecy around trial proceedings and ensure that courts issue well-reasoned judgements, which are made available to the public."
Forced to 'confess' after torture
In messages recorded inside prison and posted online using a clandestine mobile phone, many of the men said they were forced to give "confessions" on camera after suffering months of torture in Ministry of Intelligence detention centres where they were held in prolonged solitary confinement. They described being kicked, punched, beaten with electric batons, flogged, deprived of sleep and denied access to food and medication. Mokhtar Rahimi, one of those later executed, said:
"I felt I had no options left … I could not bear any more abuse and torture … They [intelligence officials] took me before a camera and told me that my case would be closed and they would release me if I stated what they told me to."
Another man, Kaveh Sharifi, said he was told to memorise six pages of written text prepared by the Ministry of Intelligence: 
"I practised for almost two hours a day until I had the information completely memorised … They even told me how I should move my hands and keep a happy face so that no one would suspect I was held in solitary confinement or ill-treated."
Inflammatory statements about heinous criminals
As well as releasing propaganda videos, the Iranian authorities have also issued a series of highly inflammatory statements describing the executed men as heinous criminals deserving the punishment they received. As with the video "confessions", the statements provide a skewed description of events and undermine the dignity and reputations of the men featured. They collectively attribute to the men a wide range of criminal activities and do not clarify what involvement each of them had in the reported incidents. 
Three months after the mass executions, the Iranian authorities have failed to provide information about the precise criminal activities that each of the executed men had been charged with and convicted of. This violates Iran's obligations under international human rights law to issue public judgements in all criminal cases, making clear the evidence and legal reasoning relied upon for the conviction.
The men were convicted of the vaguely-worded crime of "enmity against God" through "membership of a Sunni Salafist group", and carrying out armed attacks and assassinations. However, many of the men had repeatedly denied their involvement in such activities during their years on death row. Amnesty is not able to confirm either of these opposing narratives, not least due to the secrecy surrounding the trials, though Amnesty's research indicates the men's trials were blatantly unfair. They were all denied access to a lawyer at the investigation stage of their cases.
Mass arrests in Kurdistan Province
The 25 men executed on 2 August were part of a larger group of Sunni men, most of whom were arrested between 2009 and 2011, when a number of armed confrontations and killings took place in Iran's Kurdistan Province. While the authorities have acknowledged that 20 executions took place that day, Amnesty has received reliable information about five additional executions, bringing the total to 25. Scores of the men, including Barzan Nasrollahzadeh, who was arrested when under 18 years of age, remain on death row. Those featured in the confession videos include Kaveh Sharifi, Kaveh Veysee, Shahram Ahmadi and Edris Nemati, who were among the 25 executed on 2 August. Loghman Amini, Bashir Shahnazari, Saman Mohammadi and Shouresh Alimoradi, four Sunni men who have been held in a Ministry of Intelligence detention centre in Sanandaj, Kurdistan Province since their arrests, are also featured prominently.