Iran: Nazanin Zaghari-Ratcliffe faces 'judicial charade' with summons to court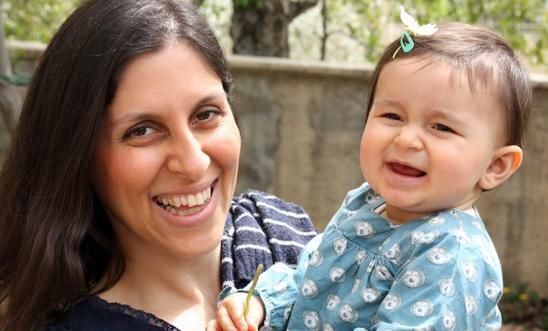 Nazanin Zaghari-Ratcliffe pictured with her daughter Gabriella before her detention © FreeNazanin campaign
British national has already been detained for more than four-and-a-half years
UK government should show 'maximum solidarity'
Chances of fair trial are 'basically zero' - Kate Allen
Responding to reports from her husband that the British national Nazanin Zaghari-Ratcliffe is set to return to court in Iran on Monday (2 November) having been warned to "pack a bag" for prison, Kate Allen, Director at Amnesty International UK, said:
"All the signs are that this is going to be a judicial charade. 

"Nazanin has already been convicted once after a deeply unfair trial before a Revolutionary Court - the chances of the Iranian authorities now giving her a fair trial on a fresh charge are basically zero.

"The UK government should make urgent new representations seeking to have this charge dropped. They should also show maximum solidarity with Nazanin - including by visiting her at her parent's home in Tehran

"In the absence of any proper evidence against Nazanin, the Iranian authorities should end this charade and finally allow her to be reunited with her husband and daughter back in Britain."
On 8 September, Zaghari-Ratcliffe was taken to court and told she would face a new charge of "spreading propaganda against the system". A trial date was set for the following weekend but this was postponed at short notice. Amnesty's Kate Allen described the announcement of a new charge as "our worst fears come true". 
Mother arrested on holiday
Zaghari-Ratcliffe, 41, was arrested at Imam Khomeini airport in Tehran in April 2016 as she was about to board a plane back to the UK following a family holiday with her 22-month-old daughter Gabriella. She was held for more than eight months in solitary confinement, during which time she was subjected to a deeply unfair trial and sentenced to five years in prison after being convicted on a trumped-up national security-related charge. In 2017, a second court case was opened against her and later postponed. She apparently faces a further possible prison sentence, even as her current five-year jail term is nearing its end.   
UK government
There are longstanding concerns that the Government has failed to properly prioritise Zaghari-Ratcliffe's case and consistently call for her unconditional release. Officials initially advised Mr Ratcliffe to remain quiet when his wife was detained, and it later took more than a year of high-profile campaigning from Ratcliffe and supporters before the Government first publicly called for Zaghari-Ratcliffe's release or acknowledged any violation of her rights. Last year, after further pressure, the UK granted Zaghari-Ratcliffe "diplomatic protection" status yet no progress has been made in achieving her freedom. 
Temporary release amid coronavirus fears 
In March this year, Zaghari-Ratcliffe - like numerous prisoners in Iran - was released on a temporary furlough basis after fears that coronavirus could infect large numbers of people held in Iran's overcrowded jails. After being allowed out of Tehran's Evin Prison, she has been required to wear an ankle device limiting her to within 300 metres of her parents' home in the capital, which has prevented her accessing the healthcare she needs.  
For most of her detention, Zaghari-Ratcliffe has been held in Evin Prison, where the quality of food is poor and prisoners are routinely forced to buy extra food from the prison shop to maintain something close to an adequate diet. Prisoners of conscience in Evin, like those in other jails in Iran, are often denied vital medical treatment as a further layer of punishment. During her incarceration, Zaghari-Ratcliffe has suffered from numerous health problems - including severe arm, neck and back pain - with her husband repeatedly raising concerns over his wife's mental and physical health. 
Other dual-nationals
Zaghari-Ratcliffe's treatment at the hands of the Iranian authorities has been identified by the UN Special Rapporteur on Iran as part of a wider pattern of bringing spurious national security-related charges against dual-nationals and other individuals with foreign connections. Prominent past cases include the Iranian-American Washington Post journalist Jason Rezaian, and the Canadian-Iranian academic Dr Homa Hoodfar.
Another notable detainee in Iran is Anoosheh Ashoori, a UK-Iranian dual-national. The retired 66-year-old engineer was sentenced to 12 years in prison in 2018 after a grossly unfair trial that relied on torture-tainted "confessions" to convict him of "cooperating with a hostile state against the Islamic Republic".
In recent years, the human rights situation in Iran has deteriorated severely - for more on the wider human rights situation in Iran, go here.