Iran must halt tomorrow's execution of two men forced to confess to gas pipeline explosion on TV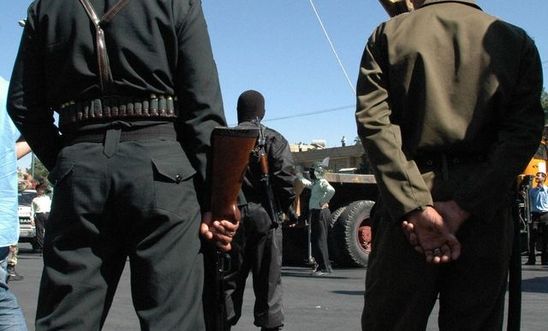 A hanging in Iran in 2007 © AFP/Getty Images
'The Iranian authorities are violating every rule in the book' - Hassiba Hadj-Sahraoui
Amnesty International is calling on the Iranian authorities to halt the planned execution tomorrow of two men in Iran who were forced to "confess" on TV to involvement in an explosion at a gas pipeline close to their native village in the oil-rich south-western province of Khuzestan, home to many members of the country's Ahwazi Arab minority.
Ali Chebieshat and Sayed Khaled Mousawi, who campaign for the cultural and linguistic rights of Ahwazi Arabs, were sentenced to death on 9 September last year by a Revolutionary Court in the western city of Ahvaz after being charged with "enmity against God" (moharebeh). 
Footage showing the pair "confessing" to their role in the explosion at a natural gas pipeline was aired on Iran's state-controlled Press TV and Channel 3 of the Islamic Republic of Iran Broadcasting in November. Their "confession" was used despite the fact that the director of the state-owned Khuzestan Gas Company had described the explosion as an accident. 
Earlier this week relatives of the two men learned from a Ministry of Intelligence employee who spoke to them that the authorities now intend to execute the men tomorrow, despite the fact that the pair's whereabouts remain unknown and no formal notice of the execution - a requirement under Iranian law - has been received by the men's lawyer.
Commenting on the case, Amnesty International Middle East and North Africa Deputy Director, Hassiba Hadj-Sahraoui, said:
"The Iranian authorities are violating every rule in the book, including failing to give defendants a fair trial, presume their innocence or even share with them the verdict sentencing them to death. 

 

"These executions must be halted." 
Arrest and secret detention
Chebieshat and Mousawi were arrested in November 2012 without an arrest warrant and were held in solitary confinement in a Ministry of Intelligence detention centre with no access to the external world for over seven months. They are believed to have been tortured or otherwise ill-treated. In court, the two men denied all the charges brought against them. Their allegations of torture or other ill-treatment are not known to have been investigated.
In mid-2013, Ministry of Intelligence officials told the men's families that they could meet with the detainees in a mosque in the village of Jarieh. When they arrived, they were told that if they agreed to be filmed while watching their relatives' recorded "confessions", the authorities would consider reducing their punishments. 
Further seclusion and no-warning death sentences
Then, in March this year, intelligence officials took the men to an unknown location, away from lawyers and their families, where they were held in conditions amounting to enforced disappearance. Their families had no information about the men's whereabouts until they received information that Iran's Supreme Court had upheld the men's death sentences and scheduled their execution. Although under Iranian law lawyers must receive 48 hours' notice of their client's execution, the two men have not been permitted any contact with the outside world since March and their lawyer's request for information has been denied. 
Background
Ahwazis are commonly marginalised in Iran and discriminated against in respect of access to education, employment, adequate housing, political participation and cultural rights.   
Iran is the second biggest executioner in the world, after China - with more than 360 people hanged in 2013 alone.