Iran: at least six young human rights activists arrested in coordinated raids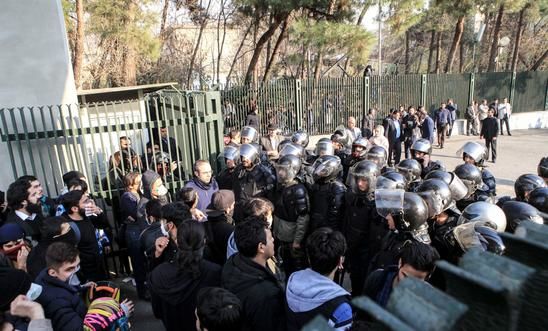 The Iranian authorities have arrested large numbers of people following nationwide protests © Getty Images
'We are extremely concerned that these individuals are now at risk of torture' - Magdalena Mughrabi
Responding to reports that at least six young human rights activists - including Shima Babaei and her husband Dariush Zand, Saeed Eghbali, Leila Farjami, Mahmoud Masoumi and Behnam Mousivand - were detained in coordinated arrests across Iran yesterday (1 February), Magdalena Mughrabi, Amnesty International's Middle East and North Africa Deputy Director, said:
"These human rights defenders must be released immediately and unconditionally - they have committed no crime and have been arrested purely because of their human rights work. 

"We are extremely concerned that these individuals are now at risk of torture or other ill-treatment.

"The coordinated nature of these arrests confirms our grave concerns about the grim reality for those defending human rights in Iran today, where peaceful activism is repressed and criminalised by the authorities. 

"These people are prisoners of conscience, detained solely for peacefully defending human rights. 

"These arrests are only the latest episode in a long crackdown on any form of human rights work in Iran, intended to wipe out the rights to freedom of expression, association and peaceful assembly in the country." 
Crackdown on protests
Early last month, Amnesty reported that more than 1,000 people had been arrested and detained in jails notorious for torture and other ill-treatment in response to protests that sprang up around the country at the end of 2017. 
Meanwhile, last year Amnesty documented how the Iranian authorities had mounted a "vicious" crackdown on human rights activists since Hassan Rouhani became president. In a succession of cases, people have been sentenced to lengthy prison terms - sometimes exceeding a decade - for acts that should not even be considered crimes. These include contact with the EU and the UN, as well as with media outlets, international trade union associations and human rights groups based outside Iran - including Amnesty. The activists are often labelled "foreign agents" and "traitors" by Iranian state media.