Iran: at least 1,000 detained protesters at risk of torture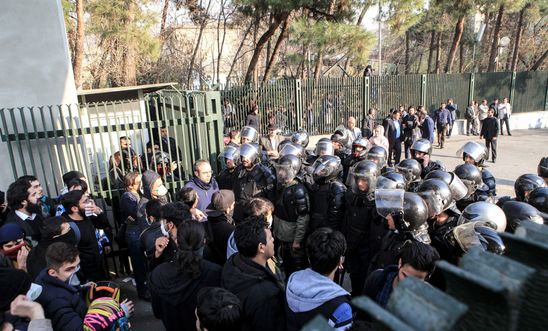 Protests have spread rapidly across the country since late December © Getty Images
Protest leaders could face the death penalty for 'enmity against God'
'Peaceful protest is a right, and many people in Iran want to exercise that right' - Philip Luther
The Iranian authorities must ensure the right to peaceful protest, investigate reports that security forces have unlawfully used firearms against unarmed protesters, and protect hundreds of detainees from torture, Amnesty International said today amid concerns that the crackdown against demonstrations in the country is intensifying.  
Official statements have confirmed that at least 22 people, including two security officers, have been killed since 28 December, when thousands of Iranians began flocking to the streets to speak out against poverty, corruption and political repression.
Videos and eyewitness testimonies have emerged on social media and media outlets showing or describing riot police and other security forces using excessive and unnecessary force, including firing ammunition at unarmed protesters, beating protesters with truncheons and using tear gas and water cannon to disperse demonstrations. Amnesty has not been able to verify the videos or witness accounts. 
More than 1,000 people have been arrested and detained in jails notorious for torture and other ill-treatment over the past seven days, with many denied access to their families and lawyers. The Human Rights Activist News Agency has reported that in Tehran's Evin prison alone, the authorities registered at least 423 detainees during 31 December and 1 January. 
Many of the hundreds of detainees are believed to be held in overcrowded conditions in the "quarantine section" of Evin prison, which only has capacity for approximately 180 people. This area is where detainees are often held shortly after arrest and checked to see if they're carrying drugs or infections before transfer to a general ward. Some have been transferred to sections of the prison that are run by the Revolutionary Guards or Ministry of Intelligence.   
Most of the demonstrations appear to have been peaceful, but in some cases violence by protesters has erupted, including stone-throwing, acts of arson and other damage to buildings, vehicles and other property. 
Philip Luther, Amnesty International's Middle East Research and Advocacy Director, said:
"All detainees should be protected from torture and other ill-treatment.

"Given the alarming scale of the current wave of arrests, it is highly likely that many of those held are peaceful protesters who have been detained arbitrarily and now find themselves in prisons where conditions are dire and torture is a common tool to extract confessions and punish dissidents.

"Those suspected of criminal conduct should be promptly charged with a recognisable criminal offence and tried in proceedings which meet international standards for fair trial or released. Their legal status and exact whereabouts should also be immediately disclosed to their families.

"The Iranian government must promptly launch an effective and independent investigation into the killings and other reports of excessive or unnecessary force, and bring all those responsible for human rights violations to justice."
Protest leaders could face the death penalty 
Despite President Hassan Rouhani's assurance on 30 December that protesters have the right to criticise the government, the authorities' subsequent rhetoric has suggested they intend to respond to the unrest in an increasingly ruthless manner.
On 1 January, Judiciary Chief Sadegh Larijani demanded a "strong approach" from "all prosecutors". 
On 2 January, the Head of the Revolutionary Court in Tehran, Mousa Ghanzafar Abadi, warned that the Ministry of Interior had declared the protests illegal and that those who continued to engage in protests would face severe penalties. He threatened that the protest leaders and organisers could be charged with "enmity against God", which is punishable by the death penalty, "as they are connected with foreign intelligence services and are implementing their agendas". The same day, Iran's Supreme Leader, Sayed Ali Khamenei, accused the country's "enemies" of stirring the protests.
On 3 January, Iran's Minister of Information and Communication Technology, Mohammad Javad Azari Jahromi, said the popular social messaging application Telegram would remain blocked unless it agreed to remove "terrorist content". Telegram's CEO has said it has refused the authorities' request to shut down channels that peacefully promote and support the protests.  Instagram also remains blocked. On 31 December, Mr Jahromi had said the blocking of access to Telegram and Instagram, which began that day, would be temporary. 
The authorities' aggressive rhetoric has been accompanied by state-sanctioned media outlets publishing a wanted list of protesters with their faces showing, and calling on members of the public to identify and report them to the authorities. 
Philip Luther added:
"The Iranian authorities have an appalling track record of carrying out mass arbitrary arrests of peaceful demonstrators. 

"The escalation in the intimidation of protesters and the grossly disproportionate restrictions imposed on the right to freedom of expression online over recent days heightens fears that the Iranian authorities may resort to increasingly heavy-handed tactics to crush dissenting voices. 

"Peaceful protest is a right, and many people in Iran want to exercise that right. Instead of opting for repression and absurdly accusing protesters of collusion in foreign-orchestrated plots, the Iranian authorities should address their own record of failure to respect a range of civil, political, economic and social rights." 
Mashhad protests
Since 28 December, protests that started in Mashhad, Iran's second largest city, have spread to some 40 locations across Iran. Slogans chanted at the demonstrations have expressed a mix of economic and political grievances - ranging from complaints over poverty, high unemployment, corruption and inequality - to demands for the release of political prisoners and outright rejection of the ruling political system, which some protesters have denounced as a "clerical dictatorship". Iran has not seen protests on this scale since those following 2009's disputed presidential election. Then, more than 100 protesters were killed and thousands suffered arbitrary arrest and detention, as well as torture and other ill-treatment.
The International Covenant on Civil and Political Rights, to which Iran is a state party, upholds the rights to freedom of peaceful assembly and freedom of expression.