Iran: Kurdish prisoner secretly executed by Revolutionary Guards, family told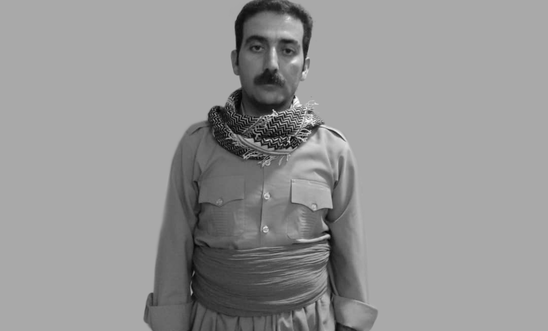 Hedayat Abdollahpour was tortured in detention © Private
Hedayat Abdollahpour transferred to Revolutionary Guards custody three weeks ago
'When the Revolutionary Guards do not tell you where your relative is, you better refer to the cemetery' - prosecutor's message
Iranian authorities must stop 'playing cruel games' with man's family, says Amnesty 
The Iranian authorities must urgently clarify the fate and whereabouts of a Kurdish prisoner who may recently have been secretly executed in Revolutionary Guards custody, said Amnesty International.
Fears for the safety of Hedayat Abdollahpour are growing after the head of the Centre for the Implementation of Sentences in the city of Urumieh in Iran's West Azerbaijan province yesterday told his family he had been executed three weeks ago in the city of Oshnavieh. 
Abdollahpour - who was sentenced to death in 2017 after a grossly unfair trial in connection with an armed clash between Revolutionary Guards and members of the Kurdish Democratic Party of Iran - was transferred to an undisclosed location on 9 May. His family and lawyers have been desperately trying to obtain further information since then. Approximately three weeks ago, a prosecution official told Abdollahpour's lawyers he was in a Revolutionary Guards detention facility in Urumieh, though there was no indication he was scheduled for execution. 
When Abdollahpour's family yesterday asked why they had not been informed in advance about the execution, the official said he was not allowed to provide further information, adding only that the execution had been carried out following "an order from above," an apparent reference to the Revolutionary Guards. 
On 12 May, the deputy prosecutor in Urumieh told Abdollahpour's family: 
"When the Ministry of Intelligence and the Revolutionary Guards do not tell you where your relative is, you better refer to the cemetery." 
On 23 May, his lawyers were told by the same deputy prosecutor that Abdollahpour was alive and being held in a detention facility run by the intelligence unit of the Revolutionary Guards in Urumieh, but were given no further information. Iranian law requires the authorities to inform lawyers of the scheduled execution of clients 48 hours in advance, and grant relatives a last visit. To date, Abdollahpour's lawyers have not been notified of his execution. 
Amnesty believes the Iranian authorities are committing the crime of enforced disappearance - a crime under international law - as long as they refuse to disclose the fate or whereabouts of a victim of such abuse. The Iranian authorities have a long record of secretly executing members of ethnic minority groups and burying them in unmarked graves, sometimes refusing to reveal details of deaths for years afterwards. 
Diana Eltahawy, Amnesty International's Middle East and North Africa Deputy Director, said:
"If Hedayat Abdollahpour has been executed in secret, his body must be returned to his family immediately and an independent investigation must be conducted into the circumstances surrounding his unlawful execution.

"The fact that the Iranian authorities are playing these cruel games with Hedayat Abdollahpour's family further demonstrates their contempt for human life. By refusing to reveal the truth, they are deliberately causing untold mental anguish and distress to his loved ones."
Hedayat Abdollahpour's arrest
Hedayat Abdollahpour was arrested in August 2016 in connection with an armed clash between the Revolutionary Guards and members of the Kurdish Democratic Party of Iran on 14 June that year. 
Following his arrest, Abdollahpour was held in solitary confinement for 78 days in a detention facility run by the Revolutionary Guards. His family say he lost his hearing in one ear after being subjected to torture during this time. He was accused of being a Kurdish Democratic Party of Iran member, which he consistently denied. His later conviction and death sentence followed a grossly unfair trial, which relied on forced "confessions" that Abdollahpour retracted in court. The court's verdict, which has been reviewed by Amnesty, conceded that Abdollahpour was not in possession of a weapon and that he was not even in the area at the time of the armed clashes. 
Late last month, Abdollahpour's application for a pardon was rejected for a second time by Iran's Amnesty and Clemency Commission.
Amnesty opposes the death penalty in all cases. The organisation recorded at least 251 executions in Iran last year in its annual death penalty report.