Iran: execution of juvenile offender denounced as 'shameful act'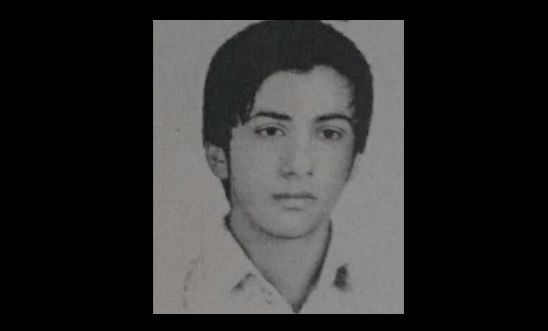 Alireza Tajiki was only 16 years old when he was sentenced to death © Private
Alireza Tajiki was 15 when arrested and only 16 when sentenced to death, contrary to international law
Fourth juvenile offender execution in Iran this year, while at least 88 juvenile offenders remain on death row 
Country is second only to China in number of executions it carries out
Following today's execution in Iran of Alireza Tajiki, a young man who was arrested, convicted and sentenced to death as a child, Magdalena Mughrabi, Amnesty International's Middle East and North Africa Deputy Director, said:
"This shameful act marks a critical turning point for Iran, and exposes the hollowness of the authorities' claims to have a genuine juvenile justice system.
 
"By going ahead with this execution in defiance of their obligations under international law, and despite huge public and international opposition, the Iranian authorities have again cruelly demonstrated their complete disdain for children's rights. 

"Alireza Tajiki is the fourth person executed in Iran this year who was arrested as a child. His execution, which was carried out despite his allegations that he was tortured into 'confessing', consolidates a horrendous pattern that has seen Iran repeatedly send people arrested as children to the gallows, often after deeply unfair trials."
Tajiki, who was 21 years old, was sentenced to death at the age of 16 in April 2013 after a criminal court convicted him of murder and male rape. He had been arrested at the age of 15. His trial was grossly unfair and relied primarily on "confessions" which Tajiki said were extracted through torture, including severe beatings, floggings, and suspension by his arms and feet.
Following his arrest in May 2012, Tajiki had been placed in solitary confinement for 15 days, without access to his family. He was denied access to a lawyer throughout the entire investigation process. He has said that during this period he was subjected to torture to "confess" to the crime. He later retracted the "confessions" both before the prosecution authorities and during his trial, and has since consistently maintained his innocence. However, his "confession" was admitted as evidence during proceedings against him.
Meanwhile, both the original court and Iran's Supreme Court relied on forensic opinions stating that Tajiki was "mature" at the age of 15 and therefore eligible to receive the death penalty.
Yesterday morning he was transferred to solitary confinement ahead of his execution in Adel Abad prison in the city of Shiraz in southern Iran. His family were told to go to the prison to make their final visit, though the authorities did not inform his legal representatives, contrary to Iran's own laws which require lawyers to be informed of their clients' scheduled execution at least 48 hours in advance. 
At least 88 juvenile offenders remain on death row
Iran is one of very few countries in the world to execute juvenile offenders. Last year, Amnesty published a report showing how "reforms" introduced by the Iranian authorities in 2013 were largely designed to deflect criticism of the country's record on such executions. Since then, Iran has condemned dozens of young people to death for crimes committed when they were below 18. 
Amnesty has identified the names of at least 88 individuals (other than Alireza Tajiki) on death row in Iran who were under the age of 18 when the crime for which they were convicted was committed.
In total, Iran carried out at least 567 executions last year - the second highest of any country in the world. At least two of these were juvenile offenders, and at least eight were women. At least 33 executions were carried out in public.