Iran: dozens of juvenile offenders on death row - new report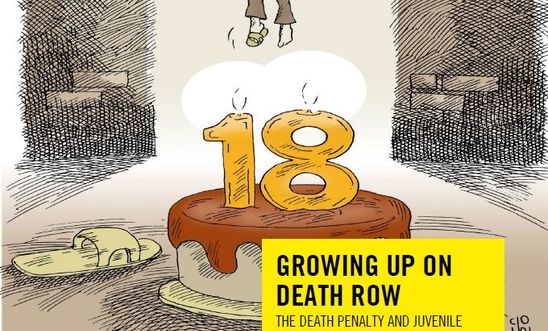 Juvenile offenders spend an average of seven years on death row awaiting their execution © Kianoush Ramezani, www.kianoush.fr
Girls as young as nine and boys as young as 15 to be sentenced to death in Iran 
Dozens of juvenile offenders are languishing on death row in Iran, said Amnesty International in a damning new report today (26 January), despite Iran's claims to have "reformed" the way it deals with alleged capital crimes by under-18s.
The 110-page report, Growing up on death row: The death penalty and juvenile offenders in Iran, gives the names and locations of 49 juvenile offenders currently facing execution, while UN figures indicate that at least 160 may be on death row (Amnesty believes the true number is likely to be higher still, as information about the use of the death penalty in Iran is often shrouded in secrecy). 
The execution of juvenile offenders - those convicted of offences which took place when the defendant was below the age of 18 - is banned under international law. Despite this, and despite Iran having ratified the Convention on the Rights of the Child decades ago, Amnesty's report shows that Iran has put to death 73 juvenile offenders during 2005-2015. 
Amnesty's report shows that young people condemned to death in Iran spend an average of seven years on death row before being taken out of their cells to be hanged, though in some cases juvenile offenders have spent over a decade on death row. In a number of cases the authorities have scheduled the executions of juvenile offenders and then postponed them at the last minute, adding to the severe anguish of being on death row. Amnesty considers such treatment to be cruel, inhuman and degrading.
Following sustained criticism of its damning record on executing juvenile offenders, the Iranian authorities made changes to the country's 2013 Islamic Penal Code allowing judges to replace the death penalty with an alternative punishment based on a discretionary assessment of a juvenile offender's mental growth and maturity at the time of the crime. In 2014, Iran's Supreme Court also said that all juvenile offenders on death row could apply for retrial.
In practice, however, the changes have had little impact. For example, on 13 October Fatemeh Salbehi was hanged for the murder of her husband who she'd been forced to marry at the age of 16 and from whom she had reportedly suffered domestic abuse. She was aged 17 at the time of the killing. She was re-sentenced to death after a retrial session lasting only a few hours in which the psychological assessment was limited to a few basic questions such as whether or not she prayed or studied religious textbooks. Meanwhile, in five other cases - Hamid Ahmadi, Amir Amrollahi, Siavash Mahmoudi, Sajad Sanjari and Salar Shadizadi – juvenile offenders were re-sentenced to death after courts presiding over their retrials concluded that they understood the nature of the crime and were not insane. In some cases juvenile offenders have not even been informed of their right to apply for a retrial.
Amnesty International Middle East Deputy Director Said Boumedouha said:
"The report sheds light on Iran's shameful disregard for the rights of children. Iran is one of the few countries that continues to execute juvenile offenders in blatant violation of the absolute legal prohibition on the use of the death penalty against people under the age of 18 years at the time of the crime.

 

"The report paints a deeply distressing picture of juvenile offenders languishing on death row, robbed of valuable years of their lives - often after being sentenced to death following unfair trials, including those based on forced confessions extracted through torture and other ill-treatment.

 

"Despite some juvenile justice reforms, Iran continues to lag behind the rest of the world, maintaining laws that permit girls as young as nine and boys as young as 15 to be sentenced to death.

 

"Instead of introducing half-hearted reforms that fall woefully short, Iran's authorities must accept that what they really need to do is commute the death sentences of all juvenile offenders, and end the use of the death penalty against juvenile offenders in Iran once and for all."
Iran the second-biggest user of capital punishment in the world
Last year there was a disturbing escalation in the use of the death penalty in Iran, with at least 830 people executed between 1 January and 1 November 2015. There were reports that at least four of these were juvenile offenders. Meanwhile, in 2014 Iran is believed to have carried out the highest number of executions anywhere in the world except for China. The Iranian authorities or state-controlled or state-sanctioned media officially announced 289 executions (278 men and 11 women), though reliable sources reported at least 454 more executions in addition to those officially announced, bringing the total number of executions in 2014 to at least 743. Of those officially announced, 122 involved individuals convicted of drug-related offences and 29 were carried out in public. The vast majority of executions in Iran are for crimes such as drug-related offences where international law clearly prohibits the death penalty as the offences are not "the most serious crimes".