Iran: British woman Nazanin Zaghari-Ratcliffe pressured to 'jail or give up' daughter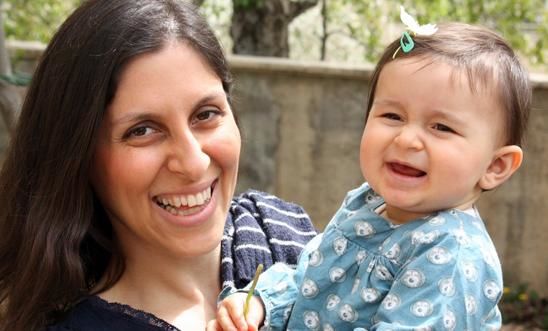 The authorities are exerting extra pressure on Nazanin Zaghari-Ratcliffe through her daughter Gabriella © Private
'What kind of refined cruelty is it that would involve presenting a mother with a 'choice' to either jail her own daughter or give her up entirely?'
Supporters and well-wishers have been sending letters and cards to her in prison
Nazanin Zaghari-Ratcliffe, the British woman jailed in Iran, is being pressured to take her two-year-old daughter Gabriella into prison with her or give up custody of her.
Ms Zaghari-Ratcliffe's husband Richard was told in a recent phone call with his wife that Revolutionary Guard officials have informed Zaghari-Ratcliffe that she must choose between moving her two-year-old daughter into Tehran's notorious Evin Prison with her for up to three days a week or sign a document to say she does not want the "right to be with her young daughter".
However, there are no suitable facilities for children inside Evin Prison and Zaghari-Ratcliffe has told her husband that neither "choice" is acceptable. Instead, she is requesting that the authorities allow more regular visits with her daughter - either a day-long visit or two half-day visits each week. She is currently only allowed one hour-long visit per week. 
Evin Prison authorities seem to have imposed this choice in a misguided attempt to counter negative publicity caused by the fact that Zaghari-Ratcliffe has been separated from her young child. The 37-year-old charity worker has suffered a serious decline in her physical and mental health since being convicted in an unfair trial by a Revolutionary Court on unspecified "national security charges" and given a five-year jail sentence in September. In October, she wrote a suicide letter to her husband.
Amnesty has designated Nazanin Zaghari-Ratcliffe a prisoner of conscience, as she is being held solely for peacefully exercising her right to freedom of expression and association. A campaign for her release (part of Amnesty's "Write For Rights" initiative), is
here
.
To date, some 26,000 messages of support for Ms Zaghari-Ratcliffe have been posted online, messages which Amnesty is printing off and sending to her in Evin Prison. In addition, numerous supporters and well-wishers have been sending letters and cards to her in Tehran.
Amnesty International UK's Individuals At Risk Campaign Manager Kathy Voss said:
"This is yet another turn of the screw for Nazanin.

 

"What kind of refined cruelty is it that would involve presenting a mother with a 'choice' to either jail her own daughter or give her up entirely? 

 

"The Iranian authorities should release Nazanin and end this cruel charade of justice immediately. Meanwhile up until she's released, Nazanin should be allowed extended contact with her daughter.

 

"All along the Iranian authorities appear to have been playing politics with this case. We need to see the UK Government stepping up its efforts to unlock things politically and see that Nazanin is released as soon as possible."
UK-Iranian dual nationals
Amnesty has been campaigning for justice for Ms Zaghari-Ratcliffe as well as other UK-Iranian dual nationals, including the businessman Kamal Foroughi, 77, an oil and gas consultant who has served more than five years of an eight-year jail sentence after being convicted of espionage. Mr Foroughi's release is long overdue under Iran's own early-release laws and Amnesty has called for him to be released immediately.
For more on Iran and human rights, go
here
.