Iran: authorities must investigate five deaths in custody following protest crackdown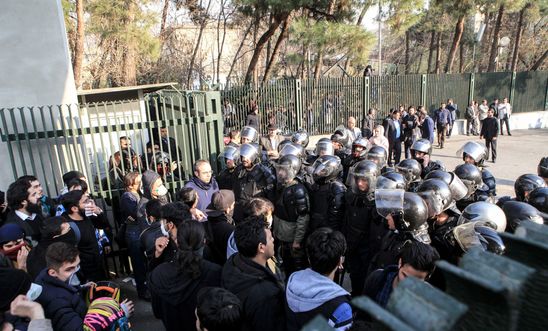 At least 1,000 protesters have been detained in a concerted crackdown © Getty Images
'The shroud of secrecy and lack of transparency over what happened to these detainees is alarming' - Magdalena Mughrabi
The Iranian authorities must immediately investigate reports that at least five people have died in custody following a crackdown on recent anti-establishment protests, Amnesty International said today.
Fears over the welfare of hundreds of detainees have been heightened by the death of Sina Ghanbari, 23, who was held in the "quarantine" section of Tehran's Evin prison, where detainees are held for processing immediately after being arrested. 
There have been conflicting reports about the circumstances surrounding Mr Ghanbari's death, with activists disputing the authorities' claims he committed suicide. 
At least four further deaths in custody have been reported, including another two deaths in the same "quarantine" section, according to prominent human rights lawyer Nasrin Sotoudeh. The identities of these two individuals are currently unknown. 
Meanwhile, at least two others who were arrested during the crackdown - Vahid Heydari and Mohsen Adeli - have reportedly died in custody in the city of Arak in Markazi province, and the city of Dezfoul in Khuzestan province. In all four cases, activists and family members have disputed official claims that the detainees committed suicide. 
Meanwhile, many relatives of the hundreds of people detained have reported that they've been unable to access information about their loved ones, and that they've faced intimidation and threats by the authorities even for making enquiries. 
Magdalena Mughrabi, Amnesty International's Middle East and North Africa Deputy Director, said:
"The shroud of secrecy and lack of transparency over what happened to these detainees is alarming. 

"Instead of rushing to the judgment that they committed suicide, the authorities must immediately launch an independent, impartial, and transparent investigation, including independent autopsies.

"We have long documented the nightmarish conditions in detention facilities in Iran, including the use of torture. 

"Those suspected of having any responsibility for these deaths should be suspended from their positions and prosecuted in proceedings that respect international fair trial standards and without recourse to the death penalty.
 
"The authorities must not only inform family members of detainees' whereabouts, but also allow families to visit detainees and ensure they have legal representation. 

"Nobody should face reprisals for inquiring about the whereabouts of a loved one or seeking the truth about their fate."
At least 1,000 detained
Last week, Amnesty warned that more than 1,000 people who'd been arrested during the protests were at risk of torture and other ill-treatment, with many denied access to their families and lawyers. Hundreds of detainees were believed to be held in overcrowded conditions in the "quarantine section" of Evin prison, which only has capacity for approximately 180 people. This is where detainees are often held shortly after arrest and checked to see if they're carrying drugs or infections before transfer. Some have been transferred to sections of the prison that are run by the Revolutionary Guard or Ministry of Intelligence.