Indonesia: mayor's anti-LGBTI raids following Reynhard Sinaga conviction condemned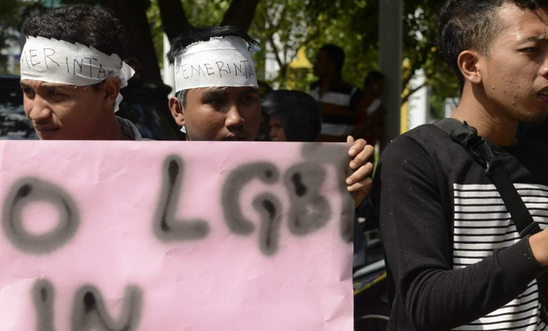 In recent years there has been a mounting campaign against LGBTI people in Indonesia © Getty Images
Mayor in Depok city demands police raids on LGBTI community in hometown of Manchester serial rapist
Move is latest in 'vicious campaign' of harassment of LGBTI people in country
'There can be no justification for these hateful raids' - Usman Hamid
Amnesty International has condemned a mayoral order for raids on the LGBTI community in the hometown of Reynhard Sinaga, the Indonesian student who was sentenced to life imprisonment last week for a series of rapes in Manchester. 
Last week, Mohammad Idris, the mayor of the city of Depok in West Java, asked municipal police to search rented residencies in order to stop what he called "immoral" acts.
He labelled his crackdown a "prevention toward the spread of LGBTI" in the city, saying he had called for the raids in the wake of global media interest in Sinaga's case.
Usman Hamid, Amnesty International Indonesia's Executive Director, said: 
 
"This latest vicious campaign against LGBTI people must stop. 

"Same-sex relations are protected under international law and there can be no justification for these hateful raids. 

"Criminalisation of homosexuality is discriminatory and violates the rights to private and family life, freedom of expression, and the freedom of assembly and association.

"The authorities in Indonesia repeatedly launch humiliating crackdowns on suspected same-sex activity, and misuse laws against loitering or public nuisance to harass and arrest LGBTI people.

"The Indonesian government should also repeal all laws that criminalise specific gender identities and expressions."
Crackdown on LGBTI community
In recent years, LGBTI communities in Indonesia have faced increasing crackdowns from the authorities. 
In 2018, police in Padang, West Sumatra, arrested ten women and accused them of same-sex relations after one of them posted a photo of her kissing and hugging another woman on Facebook. In the same year in the neighbouring province of Lampung, local police raided a beach and arrested three people who they suspected of being transgender women in an operation said to "provide safety and maintain public order" in the city. And in October 2018, West Java Police arrested two men for administering a Facebook group called "Facebook Gay Bandung Indonesia", which has a total of 4,093 members.