Indonesia: 'Brutal' police violence against protesters must be urgently investigated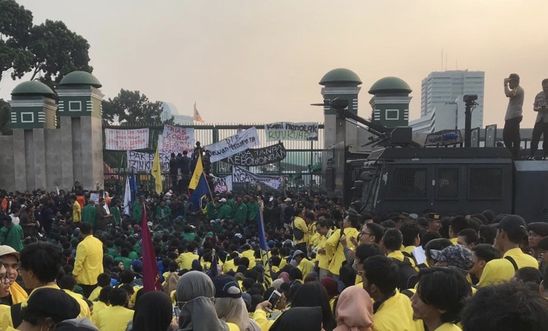 © Amnesty International Indonesia
The authorities in Indonesia must immediately launch a thorough and impartial investigation into police violence against students during recent protests across the country, Amnesty International Indonesia said today. 
Thousands of students and activists gathered in front of government buildings in Jakarta on Tuesday as part of nationwide rallies to demand that the parliament halt the enactment of various bills considered harmful to civil liberties and human rights in general.
Amnesty Indonesia monitored the situation in Jakarta and other regions on Tuesday, and recorded several instances of police using unnecessary and excessive force against protesters.
A number of Amnesty Indonesia staff were present during the Jakarta protest, which proceeded largely peacefully until a major clash between the police and the protesters in the afternoon. When some protesters began to shake and climb the parliament building's gate to attempt to force their way in, police fired water cannon and fired tear gas at the crowd.
An Amnesty Indonesia team was also in attendance when police fired tear gas at protesters in Palmerah train station in central Jakarta, panicking thousands of commuters. Dozens of people were rushed to hospitals to get medical assistance.
Usman Hamid, Executive Director of Amnesty International Indonesia, said:
"Once again we are seeing the police brutally beat protesters. These are tantamount to excessive force, including hitting and kicking suspects who were already subdued.

"Such illegal methods in policing, including when protests turn heated, is a source of deep concern. It is crucial that authorities ensure an independent investigation into reports of officers using unnecessary or excessive force against protesters, or torturing protesters they arrested.

"Reform within the police body is crucial if their members are to respect human rights in handling future demonstrations."
According to international law-enforcement standards, tear gas should not be used in confined spaces or where exits are blocked or restricted. Tear gas can cause serious injury and, in some circumstances, death. When such weapons are deployed, it must be in strict compliance with the principles of legality, necessity and proportionality.
The police arrested at least 94 protesters during and after the Jakarta rally alone. Nationwide, at least 255 protesters were arrested in Jakarta, Medan, Bandung, Makassar and Palembang. As of today (September 26), it remains unclear whether the police have released or charged any of those arrested.
Amnesty monitored media coverage and reports from local organisations on casualties and verified the data with local police and hospitals, and found that there were at least 91 protesters and three journalists wounded in Jakarta so far. A total of at least 242 people were wounded in Bogor, Bandung, Medan, Makassar, and Jakarta since 21 September. An Al-Azhar Indonesia University student was found in a critical condition on the street during the unrest. He is now in intensive care at Pelni Hospital in Jakarta.
Amnesty acknowledges that some protesters engaged in acts such as vandalising and damaging private and government properties, burning tires on the streets, or verbally insulting or throwing stones at the police.  However, the police must respect the right of peaceful protesters to demonstrate, using force only as the last resort and no more than is strictly necessary, proportionate and lawful in response to the violence they are facing. There is no justification for excessive force, and under no circumstance may any person be subjected to torture or other ill-treatment.
UPDATE: AUTHORITIES MUST INVESTIGATE STUDENT'S DEATH AND PROTECT PROTESTERS
Earlier today, hundreds of students staged further protests in front of the local parliament building in Kendari, southeast Sulawesi. Clashes broke out between protesters and the police .
A student from Halu Oleo University in Kendari was shot in the chest during the unrest. The hospital that received the body of the student confirmed that he died of a gunshot wound. The police have denied shooting the student, saying that their personnel were not equipped with lethal ammunition in handling today's demonstration. Local media have reported that there are three other students currently being treated at the same hospital, with one in a critical condition.
Usman Hamid, Executive Director of Amnesty International Indonesia, said:
"Today's killing of a student shows that police tactics are not keeping protesters safe. Authorities must urgently establish the facts of this fatal shooting in a prompt, thorough, independent and impartial investigation.

"There has been widespread evidence of police attacking students and using excessive force since protests erupted on 23 September. While the exact circumstances of today's events are not yet established, it's clear that the unlawful use of excessive force by police is contributing to a volatile situation.

"The priority must be to prevent further loss of life and ensure that security forces are protecting people's human rights."