India: Women politicians face shocking scale of abuse on Twitter - new research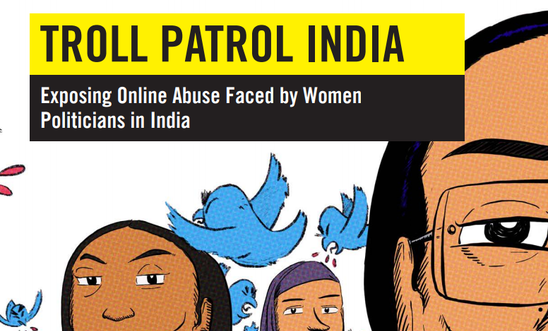 Amnesty India analysed more than 114,000 tweets sent to 95 politicians
Women politicians in India face a shocking scale of abuse on Twitter, new research by Amnesty International India has revealed.
The 76-page report, Troll Patrol India: Exposing Online Abuse Faced by Women Politicians in India, analysed more than 114,000 tweets sent to 95 women politicians in the three months during and after last year's general elections in India.
The research found that women are targeted with abuse online not just for their opinions - but also for various identities, such as gender, religion, caste, and marital status.
The 95 politicians held a variety of views spanning the political spectrum. The tweets were decoded through the microsite Troll Patrol India by more than 1,900 digital volunteers from 82 countries - of which 1,095 were from India.
Amnesty's research found that 13.8% of the tweets in the study were either "problematic" or "abusive". Problematic content was defined as tweets that contain hurtful or hostile content, especially if repeated to an individual on multiple occasions, but do not necessarily meet the threshold of abuse.
Avinash Kumar, Amnesty International India's Executive Director, said:
"Touted as a 'safe place for free expression', Twitter was popularly envisioned to be a platform where marginalised populations - including women, Dalits and religious minorities - would have an equal opportunity to make their voices heard.

"While over the years the social media platform has evolved into an indispensable tool for political engagement, campaigning and activism, women are regularly and relentlessly subjected to abuse on the platform, which has a silencing effect on them."
Online harrassment
Many women politicians told Amnesty India that Twitter is failing in its responsibility to respect women's rights online.
Shazia Ilmi from the Bharatiya Janata Party said:
"More women should be entering politics. But the price that I pay is too much for what I choose to do. The price includes being trolled incessantly, being the victim of online harassment, having a lot of remarks passed about what I look like, my marital status, why I have or don't have children, etc. - all the filthiest things you can think of. If they don't like my strong opinions, they do not remark on my work but call me a 'whore' in every language that is used in India."
Atishi, from the Aam Aadmi Party, said:
"It is not the role of each woman to individually ensure her safety in public space. For example, if a woman steps out in public transport, it is the government's role to ensure that they are safe there. Similarly, if there is a women who is accessing social media on Twitter, it is the responsibility of the platform to ensure that it is a safe and secure space for women". 
Twitter's response and recommendations
Amnesty India shared its findings with Twitter India last November, seeking a response concerning reporting processes, moderation and language detection.
In its response, Twitter said that "building a Twitter free of abuse, spam and other behaviours that distract from the public conversation is one of their top priorities. It has made strides in creating a healthier service and continues to further invest in proactive technology to positively and directly impact people's experience on the service".
Twitter's corporate responsibility requires the platform to ensure that its policies are transparent, uniform, and are based on human rights standards and gender-sensitive due diligence.
The study outlines recommendations to Twitter for fulfilling its responsibility, including:
- Publicly sharing comprehensive, meaningful and disaggregated information about the nature and levels of online abuse against women on a country-by-country basis, as well as other groups, on the platform, and how they respond to it.
- Improving its reporting mechanisms to ensure consistent application and better response to complaints of violence and abuse.
- Providing more clarity about how it interprets and identifies violence and abuse on the platform, and how it handles reports of such abuse.