India: As Vedanta AGM held in London, Amnesty accuses company of sham consultation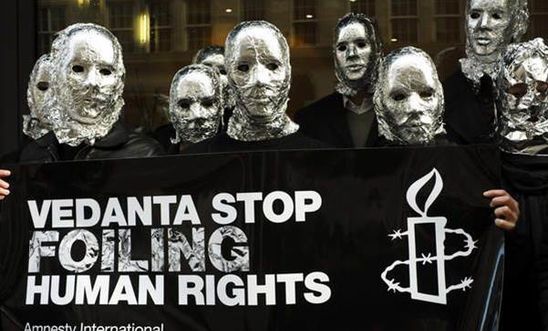 As UK based metals and mining company, Vedanta, holds its AGM meeting in London this afternoon, Amnesty International has accused the company of holding a sham consultation this week with locals over the planned expansion of an alumina refinery in Odisha, India.
A public hearing held on Wednesday in Lanjigarh, Odisha, on the proposed six-fold expansion of an alumina refinery, breached national and international standards Amnesty said.
The hearing was allegedly held as part of the project's 'environmental clearance process', and was intended for authorities to consult local people and address their concerns.  However, attendees reported that they were not allowed to raise concerns over the expansion, that people who spoke of ongoing health issues related to Vedanta's practices were shut down, and that they were not read a fair and full summarisation of proceedings in the local languages, to which they were legally entitled. 
Since 2009, Amnesty's research has consistently highlighted evidence of human rights abuses associated with the operations of the Lanjigarh refinery, which commenced production in 2007.
Between 4,000 and 5,000 people who live in the 12 villages that surround the Lanjigarh refinery, including Majhi Kondh Adivasi, Dalit and other marginalised communities, are currently affected by the refinery's operations, including its impact on water and air, which has compromised their access to water for drinking and domestic use and placed their health and livelihoods at risk.
Vedanta's plans to expand its 700-hectare refinery involve the acquisition of an additional 888 hectares of land belonging to these communities.
Local communities have repeatedly raised concerns over the risk posed by the refinery's red mud ponds, which contain hazardous waste materials. The ponds are situated only a kilometre away from streams that feed into the Vamsadhara river, which communities depend on for drinking water, personal use and for their livestock.
Peter Frankental, Amnesty UK's Economic Affairs Programme Director, said:

"Vedanta has a long and dismal history of failing to listen to local people who bear the brunt of their business practices.

"The consultation they undertook this week was a sham.

"At Vedanta's AGM today, Amnesty will urge the company's new CEO, Tom Albanese, to initiate a fundamental shift in Vedanta's corporate culture."

Aruna Chandrasekhar, Business and Human Rights Researcher at Amnesty International India, said:

"Local communities, who have the most to lose from the expansion, did not receive adequate information on the project's potential impacts. Observers have reported that people who opposed the project were cut off or not given time to speak.

"The summary of the proceedings reflecting all views expressed was not read out, breaching requirements under Indian law.

"The Supreme Court of India, the former Minister for Environment and Forests and a range of national and international experts have highlighted the need for the refinery to rectify violations.

 "The governments of India and Odisha have to ensure that there is no expansion until all existing problems are addressed and a full, impartial and adequate assessment of the human rights impact of the project is carried out in genuine consultation with affected communities."
Lingaraj Azad, a local activist, told Amnesty
"Only a small fraction of us were allowed to speak. Those who were opposed were being abruptly cut off or told to wind down. The organisers did not even read out the official record or minutes at the end of the hearing. How do we know if our objections were even recorded?"
Priyabrata Satapathy, an environmental lawyer who attended the hearing, said
 "The discussion on the project impacts was limited to less than five minutes. A large part of the hearing was dominated by members of the ruling political party, with those in favour of Vedanta being summoned to speak. They continued to maintain that there is no pollution and that the plant has zero-discharge norms, when the reality is very clear for anyone to see."
An Amnesty business expert will attend Vedanta's AGM in London today, for interviews, contact the press office.