India: execution of Delhi bus murderers won't end violence against women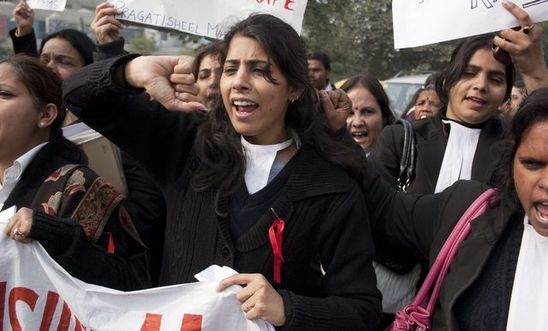 New delhi, India. 3rd January 2013 © © Louis Dowse / Demotix
INDIA: EXECUTION OF DELHI BUS MURDERERS WON'T END VIOLENCE AGAINST WOMEN
First executions in India in nearly five years
Expert committee had previously warned against death penalty in sexual offence cases
'The death penalty is never the solution' - Avinash Kumar
In response to the execution of four men convicted for the gang rape and murder of a 23-year-old woman on a bus in New Delhi in 2012, Avinash Kumar, Amnesty International India's Executive Director, said: 
"Since August 2015, India had not executed anyone and it is unfortunate that four men were executed today in the name of tackling violence against women. 
"All too often lawmakers in India hold up the death penalty as a symbol of their resolve to tackle crime. But what is actually needed are effective, long-term solutions like prevention and protection mechanisms to reduce gender-based violence, improving investigations, prosecutions and support for victims' families.
"The death penalty is never the solution and today's resumption of executions adds another dark stain to India's human rights record." 
Executed despite expert recommendations
Mukesh Singh, Pawan Gupta, Vinay Kumar Sharma and Akshay Thakur were executed earlier today. The woman who they were convicted of raping and murdering was beaten, gang-raped and tortured on a private bus in which she was travelling with her friend. 
The executions took place despite expert recommendations in India against using the death penalty in cases of rape. As a result of widespread public calls for improved security for women, a judicial committee was set up in December 2012 to analyse ways to amend laws to provide faster investigation and prosecution of people suspected of sexual offences. The committee found that failures on the part of the government and police were the root cause behind crimes against women, and made a series of recommendations - ranging from laws on violence against women, child sexual abuse and so-called "honour killings", to principles of sentencing, the creation of adequate safety measures, and policing and electoral reform. The report opposed punishing rape with the death penalty.
Arbitrary use of death penalty
Indian courts have repeatedly found the death penalty to be applied arbitrarily and inconsistently. India is among a minority of countries which continue to use the death penalty. One hundred and forty countries - more than two-thirds of the world's countries - have abolished the death penalty in law or practice.
Amnesty opposes the death penalty in all cases without exception - regardless of the nature or circumstances of the crime; guilt, innocence or other characteristics of the individual; or the method used by the state to carry out the execution.