Hungary: Rejection of anti-migrant 'Stop Soros' law by top European court sends powerful message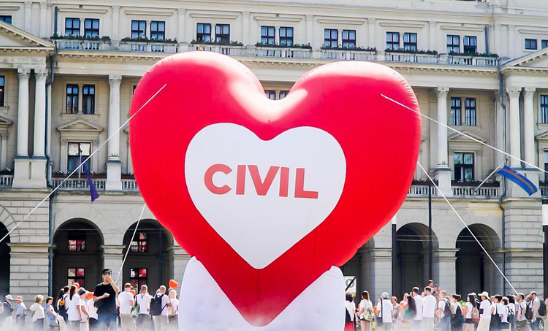 Giant heart balloon outside the Parliament in Budapest © Amnesty International
Controversial 'Stop Soros' law made it a crime to help people seeking asylum
Individuals and organisations working on migration face up to one year in prison  
In response to the Court of Justice of the European Union's ruling that Hungary's anti-migrant 'Stop Soros' legislation violates EU law, David Vig, Amnesty International's Director of Hungary, said:
"Today's court ruling sends an unequivocal message that the Hungarian government's campaign of intimidation, targeting those who stand up for the rights of refugees and asylum-seekers cannot, and will not be tolerated.

"It is now time for the Hungarian government to implement the court's decision and immediately withdraw this piece of shameful legislation.

"We also urge the government to guarantee an environment where NGOs and activists can freely carry out their essential work without being intimidated."
The ruling
In today's decision the Court of Justice of the European Union found that Hungary violated both the Procedures and Reception Directives of the EU, by allowing applications for asylum by those arriving in Hungary through "safe transit country" to be rejected as inadmissible.
The court also found that Hungary unlawfully criminalised the activities of those who provide assistance to asylum-seekers.
A vaguely-worded amendment to Hungary's Criminal Code criminalised a range of legitimate activities related to migration, making them punishable by up to one year in prison. These include: "border monitoring", "preparation or distribution of information materials", and "building or operating a network in support of facilitating illegal immigration".
Challenging the law
Amnesty challenged the constitutionality of the law in court, however, the Constitutional Court dismissed the complaint by not finding the legislation in breach of Hungary's constitution.