Hungary: New law threatens existence of NGOs working on migration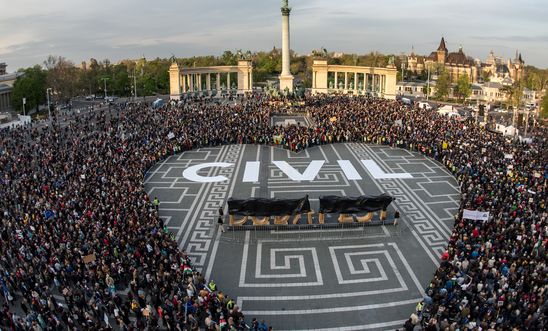 Civil protests in Hungary © Amnesty International
Legislation would require NGOs to ask permission to perform their 'basic functions' – a process which could take up to nine months
NGOs would be forced to pay a 25% tax on foreign donations
A new bill which would penalise non-governmental organisations (NGOs) that support migration in Hungary is a deeply disturbing and unjustified assault on civil society, said Amnesty International UK.
The bill submitted to the Hungarian Parliament last night requires national security clearance and a government permit for any NGOs that "support migration" in the country.
Failure to meet the requirements would lead to fines, suspension or even the dissolution of the organisation.
Gauri van Gulik, Europe Director at Amnesty International, said:
"Thinly disguised attempts to stigmatise certain NGOs have now morphed into a full-frontal assault which threatens the very existence of organisations doing crucial work in Hungary, including Amnesty International.
"This law would give the government carte blanche to target NGOs on the flimsiest of pretexts. In reality, these proposals have nothing to do with protecting national security or borders, and everything with muzzling those who work to assist people in need and dare to raise their voices.
"We call on Hungary to withdraw this bill, and it is high time for EU leaders, who have watched on the side-lines as Hungary crossed red line after red line, to finally take concrete action to stop this assault on civil society.
"We will resist this discriminatory and damaging law at every level, from the streets to the courts, in Hungary and beyond."
Background
Under the legislation, the Hungarian government would identify NGOs which it deems are "supporting migration".
The legislation states that any activity with the goal of "sponsoring, organising or otherwise supporting the entry and stay of people seeking internal protection" would require authorisation by the Minister of Interior. This would mean organisation would need to seek permission to perform their basic functions such as campaigning, developing materials and recruiting volunteers.
The new law would also impose a 25% tax on any foreign funding aimed at 'supporting migration'. If an organisation fails to pay, this would lead to exorbitant fines, bankruptcy, and the dissolution of the NGO involved.
The proposals contravene Hungary's obligations under international law to protect the right to freedom of association, expression and movement.