Hundreds to attend 'Rally for Aleppo' - Downing Street, Sat 22 Oct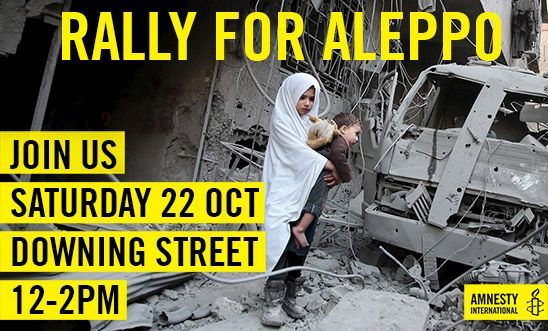 200 bears to be piled at gates of Downing Street to symbolise dead children of Aleppo
Event has support of Syrians in the UK, Carey Mulligan, Juliet Stevenson and the Kaiser Chiefs
Campaigners will stage a 'Rally for Aleppo' outside Downing Street tomorrow (Saturday 22 October, 12-2pm), calling on Theresa May to step up UK Government efforts to help end the suffering of civilians in the beleaguered Syrian city of Aleppo.
Several hundred people are expected to attend, including significant numbers of Syrians living in the UK, and teddy bears will be laid at the gates of Downing Street to symbolise the desperate plight of children currently trapped in East Aleppo. 
The first bears put down at the gate will be laid there by a group of Syrian and British children.
In total, 200 bears will be piled up outside Downing Street, marking the number of children killed in Aleppo since a ceasefire broke down in mid-September. There are thought to be approximately 100,000 children still currently trapped in eastern Aleppo. 
Staged by a coalition of human rights and humanitarian organisations (including Amnesty International UK, Christian Aid, International Rescue Committee, War Child and Syria Relief), and supported by the Sunday Mirror newspaper, the rally will see campaigners gathering under the banner "Save Aleppo's Children" (see
events page
).
Speakers at the event will include:
Dr Wael Aleji, UK Representative for the Syrian Network for Human Rights
Laila Alodaat, lawyer at the Women's International League for Peace and Freedom
Alison McGovern MP, co-chair of the All-Party Parliamentary Friends of Syria Group (previously Jo Cox's role)
Carey Mulligan, actor and Ambassador for War Child
The event is supported by the actor Juliet Stevenson, Ambassador for Amnesty International UK. Ms Stevenson said: 
"Syria is the great humanitarian tragedy of our time and I just don't think that our Government is anywhere near rising to the challenge. If we stand by and let the children of Aleppo die, we're essentially giving up on our common humanity." 

 
The band the Kaiser Chiefs, also Ambassadors for Amnesty International UK, are supporting Saturday's event as well. Simon Rix from the group said: 
 

"What's happening in Aleppo is truly heart-rending and there's a danger we're all getting almost used to it. We ask Government to do more to protect the children of Aleppo and bring this humanitarian crisis to an end."
Amnesty International UK's Syria Campaign Manager Kristyan Benedict said:
"This rally has one simple message: the UK could and should be doing more to end this terrible crisis. 

 

"We'd like to see Theresa May really exerting herself to help develop an effective international strategy for Syria that puts the protection of civilians - especially children - at its heart and tries to end the appalling suffering in the country once and for all.

 

"The UK must press for meaningful, sustainable humanitarian access in Aleppo and elsewhere.

 

"And we need to see new sanctions targeting those ordering mass human rights violations and a clear commitment to bring those responsible for these war crimes to justice."
The #RallyforAleppo and #SaveAleppo hashtags are being used on social media to promote the event.