Hundreds of Amnesty activists 'selling tools of torture' to London shoppers this Saturday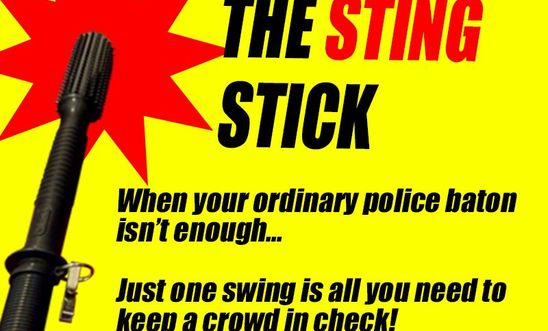 Spoof sales agents showing off thumbscrews and electro-shock handcuffs outside Liverpool Street Station
Hundreds of Amnesty International activists will be taking to the streets on Saturday 1 November to encourage London shoppers to buy some of their "tools of torture". 
The activists, dressed as street sellers with sandwich boards and theatre-style selling trays, will be hawking their wares in East London's shopping hotspots - including Liverpool Street Station and Brick Lane - trying to interest passers-by in items like thumbscrews, electro-shock handcuffs and spiked-baton "sting sticks".
As part of their Apprentice-style street selling tactics, Amnesty's spoof salespeople will also be showing prospective "buyers" highly persuasive advertisement cards which lay out the supposed benefits of buying the products to facilitate the "efficient delivery of pain based on a tried-and tested method" (illustrations of the mock adverts are available).
It is illegal to buy or sell any of these goods in the UK or to export them from Britain, but - under present loopholes in European Union trade regulations - it is perfectly lawful to advertise these and even make arrangements for their sale in most EU countries as long as the goods do not actually enter the EU.
Amnesty is calling for such EU "brokering" deals to be outlawed in new measures currently being considered by the European Parliament, and the organisation is gathering support for a new petition (see
www.amnesty.org.uk/stoptorture
) on the topic to be delivered to Brussels in the coming months.
Amnesty International's UK Arms Programme Director Oliver Sprague said:
"It's shocking that someone can perfectly legally sit in an office in Paris or Amsterdam and set up a deal to sell 10,000 Chinese-made thumbscrews to a police force in Iran or Nigeria.

 

"Obviously we won't actually be selling real-life torture equipment in Brick Lane this weekend - but we want to open people's eyes to the startling fact that the EU is still allowing unscrupulous torture merchants to operate within its borders."
The stunt - which is being live-tweeted at #StopTorture - is part of Amnesty's new Stop Torture campaign.