Hong Kong: President Xi's attack on human rights a serious threat to city's freedoms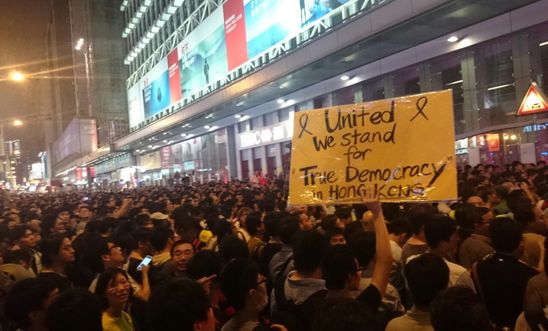 Hong Kong's political leaders must show they are prepared to resist pressure from President Xi Jinping to further erode human rights in the city, Amnesty International said.
As the Chinese President visits to mark the 20th anniversary of the territory's handover to China, Mabel Au, Director of Amnesty International Hong Kong, said:
"Hong Kong's political leaders need to step up and show they won't bend to Beijing's pressure. They must be prepared to defend the city's cherished human rights and freedoms and the rule of law that were guaranteed as part of the handover deal."
Carrie Lam, who will be sworn in as Hong Kong's new chief executive this weekend, has so far shown no appetite to stand up to Beijing when it comes to human rights. There are reports that banners critical of the Chinese government will be removed by police during President's Xi visit to avoid causing "embarrassment".
Mabel Au said:
"It is Hong Kong's political leaders who are the embarrassment if they go to extreme lengths to curtail freedom of expression and peaceful protest to appease Beijing.    

"It is vital our leaders are exposed to a multitude of voices. If we cannot openly share ideas and concerns, we will never be able to find solutions to the problems facing our city and guarantee human rights for all."
National security laws
Human rights are expected to come under increasing pressure in the next few years with Beijing seemingly intent on Hong Kong implementing a chilling national security law that would echo similar legislation on the mainland. Last month, in a speech on Hong Kong's handover, Zhang Dejiang, China's third-in-command, urged the city's leaders to move ahead with such a law. 
Article 23 of the Basic Law, the city's mini constitution, provides that Hong Kong enact laws to prohibit acts such as "subversion against the Central People's Government", "theft of state secrets" and the establishment of "ties with foreign political organisations or bodies by political organisations or bodies of Hong Kong".
In 2003, when a proposal to implement Article 23 seemed designed to serve the mainland's political agenda, half a million people took to the streets to protest, and the initiative was dropped. 
Now President Xi has introduced a series of laws on the mainland on the pretext of protecting national security that severely impede human rights. The definition of "national security" in these laws is virtually limitless. Government targets such as human rights activists, ethnic minorities, and people raising practical livelihood concerns through petitioning are frequently detained using "national security" charges, such as "inciting subversion of state power" and "leaking state secrets".
Mabel Au said:
"Look to mainland China and you will see how national security is being used as a pretext to target human rights activists and government critics. Any similar proposal for vague security laws in Hong Kong that are wide open for abuse must be fiercely resisted."
Role of the judiciary
A crucial backstop against such abuses of power is Hong Kong's independent judiciary. However, the city's judiciary has experienced intensifying pressure to give up its impartiality and independence in "sensitive" cases and instead bend to Beijing's political requirements. In February, after the sentencing of seven police officers who assaulted democracy activist Ken Tsang during the 2014 Umbrella Movement protests, pro-Beijing media initiated a well-orchestrated campaign attacking the impartiality of Hong Kong's judicial system.
Mabel Au said:
"Independent judges are a vital line of defence for human rights. It seems Beijing is intent on taking a wrecking ball to this cornerstone of Hong Kong society.

"Away from the pomp and ceremony of President Xi's visit, the message from people in Hong Kong is clear: any rollback for human rights in the city will be steadfastly resisted."