Hong Kong: Face mask ban an extreme attempt to quash protests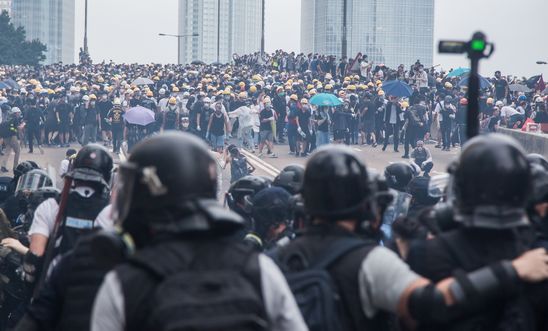 Responding to the announcement today that the Hong Kong government will ban face coverings at public gatherings, Joshua Rosenzweig, Head of Amnesty International's East Asia Regional Office, said:
"This is yet another attempt by the Hong Kong government to deter protesters, who have so far been undaunted by unnecessary and excessive use of force and the threat of prosecution, from exercising their rights.

"It is thanks to the climate of fear Hong Kong authorities have created that protesters feel the need to wear masks in the first place. This ban is especially worrying in a context where protesters fear arbitrary arrest, surveillance, and the indiscriminate use of tear gas and other projectiles.

"Rather than deescalating the situation, Hong Kong's authorities have chosen to grant themselves sweeping new powers to quash protests, demonstrating the extent of their growing intolerance for freedom of peaceful assembly.

"The Hong Kong authorities should not use emergency rules as a smokescreen for further tightening restrictions on protesters. We reiterate our call for the Hong Kong authorities to respect protesters' rights to peacefully express their opinions and to refrain from using excessive and blanket powers to silence them."
The new law - the Emergency Regulations Ordinance - also grants the Hong Kong government sweeping powers relating to detention and to restriction of freedom of expression and peaceful assembly. 
The law, which comes into effect tomorrow (5 October), will ban protesters from covering their faces in full or partially during protests. There will be an exemption for those who cover their faces owing to illness or for religious reasons. Violation of the law will be punishable with up to one year in prison.
During protests earlier this week, a young man was shot in the chest by police and over 1,400 rounds of tear gas and approximately 900 rounds of rubber bullets were fired. Since then, protesters have continued to gather daily across Hong Kong.